Rob Riley Memorial Prize winners announced
17 May 2023
Reward and recognition
Public school life
Western Australia's highest performing Aboriginal public school graduates from 2022 – one who hopes to become a software engineer, the other a physical education teacher – have each been awarded a prestigious Rob Riley Memorial Prize.
Duncraig Senior High School graduate Archer Key and Comet Bay College graduate Isla Smith were recognised with the Australian Tertiary Admission Rank (ATAR) prize and Vocational Education and Training (VET) prize respectively for their outstanding Year 12 efforts.
The Rob Riley Memorial Prize is named in honour of the late Aboriginal human rights advocate and recognises the top-performing Year 12 Aboriginal students in public schools each year. Recipients receive $5,000 each for further education and training.
Archer was the highest performing Aboriginal ATAR student in a public school with an ATAR of 98.35.
He is currently studying a Bachelor of Engineering (Hons) with a major in software engineering at the University of Western Australia.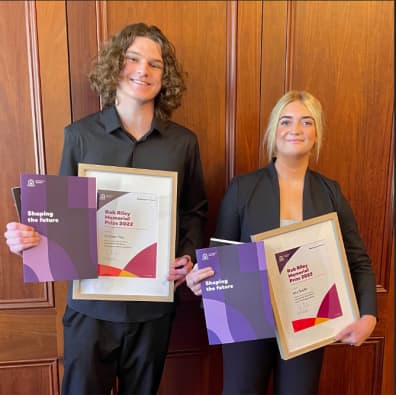 "Winning the prize has filled me with a sense of joy and accomplishment, it is absolutely wonderful to have achieved something so great and I feel incredibly grateful for all the people who have helped me along the way as well as all the opportunities I have been given," Archer said.
"I look forward to completing my studies and getting involved in the world, doing all that I can to make it a better place for all.
"The part I most enjoyed about school was all the people I met along the way; the teachers who guided me through not just my education, but life, the staff who taught me leadership, and the friends who supported me and brought so much joy to my life through their humour and companionship."
Isla was the highest achieving Aboriginal public-school student on a VET pathway, achieving four nationally recognised qualifications in Skills for Work and Vocational Pathways, Workplace Skills, and Education Support.
She is planning to study Physical Education and Health Studies at university next year and hopes to become a school teacher.
"I am very honoured to be a successful recipient of the Rob Riley award. It is a prestigious award that I am grateful to receive," Isla said.
"I am really looking forward to becoming and sport and health teacher and helping our young people develop their sports and life skills, confidence and abilities. As my passion is sports leadership, I hope one day I can coach representative AFL footy in the School Sports system."