Year 12 swimming instructor courses
Become a qualified swimming instructor and get ready to work in the best summer job!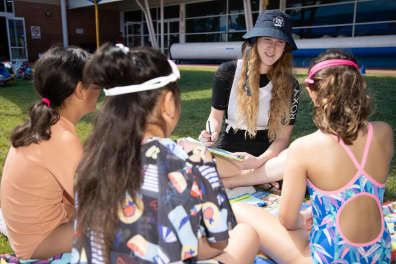 Year 12 students can register now for a fully-funded swimming instructor course.
You'll be able to obtain an accredited swimming instructor qualification and CPR qualification for free, which will qualify you to work teaching VacSwim this summer, as well as Interm Swimming lessons throughout the year.
To be eligible, you must be a Year 12 in Western Australia and be at least 17 years old. You don't require a minimum level of swimming stage to be eligible for the course, however you must be confident in the water.
Become a swimming instructor
Becoming a swimming instructor is an exciting and rewarding journey.
It's perfect for anyone who wants to make a difference teaching our young people vital skills to help keep them safe.
To become a swimming instructor, you need an accredited swimming teacher license. You can complete the supervised teaching component of your qualification at our specialised Training Hubs and transition directly to a rewarding career with us.
Once you are qualified, you'll be able to apply to work with us to teach VacSwim and Interm Swimming lessons.
To work with us a swimming instructor, you need to be at least 17 years old, have a current CPR certificate and either an:
Water safety officers don't require AUSTSWIM, ASCTA, or Royal Life Saving WA qualifications but do need to have a Surf Rescue Certificate or Surf Bronze Medallion.
To work with us you also need to have a:
Swimming staff employed by the Department must complete a Practical proficiency review and display competency at the time of their appointment. Refer to Swimming staff – Information and employment conditions.
If you have completed the theory component of an AUSTSWIM or ASCTA course, congratulations on taking the first step on your journey to becoming a swimming instructor!
Complete your supervised teaching component at one of our Training Hubs to learn in a positive, specialised environment, and transition to a rewarding career with us. You will receive full, ongoing support and mentoring from us during your supervised teaching component.
Training Hubs are specially designed to meet your needs as a trainee swimming instructor. After you graduate, you will be fully supported in your final steps to become an employed swimming instructor with the Department of Education.
Each Hub is led by a dedicated, highly experienced hub trainer who works exclusively with a small group of trainees to build their capacity to become competent, qualified swimming instructors and get them job ready.
Requirements
To complete your supervised teaching component at our Training Hubs, you need to:
be at least 17 years old
have completed the online theory for your AUSTSWIM or Swim Australia Teacher (SAT) course
have a current CPR qualification.
If you are over 18, you also need to have a current:
Working with Children Check, or have applied for one
Department of Education Nationally Coordinated Criminal History Check and Screening Clearance Number.
If you are under 18, you will need to obtain a Working with Children Check after your training is completed to be eligible for paid employment.
Apply now
Before you apply, make sure you have evidence of the above requirements ready to attach.
To apply, download the application form:
For more information
You may also be interested in