We're creating even more opportunities for students as we double the capacity of Western Australia's first high-density public secondary school in 2023.
More than 250 Year 7 students made history in 2020 as they walked through the doors of the newly completed Bob Hawke College for the first time. They've had the unique opportunity to set the standard for all those who will follow, and are already experiencing the benefits of both a world-class facility and a dedicated, talented team of teachers and staff.
The $57.6 million Stage 2 of Bob Hawke College is set to make Subiaco's new public secondary school a hub of student creativity and talent. It will build further on the College's success, providing even more opportunities for students to be 'Extraordinary Together'.
Located on the northern end of the College's Subiaco site, Stage 2 will provide spaces for students to rehearse and showcase their creative talents, including a performing arts centre, dance and visual arts studios, music rooms and two state-of-the-art media studios.
More general classrooms will also help the College double its current capacity to 2 000 students. The new roof terrace and outdoor landscaped areas will give those students unique ways to engage with their learning.
Construction commences mid-2021, creating an estimated 1 650 local jobs in areas such as carpentry, building, electrical and landscaping. The doors to these new world class facilities will open to students in 2023.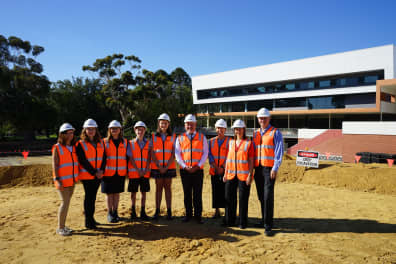 Project update – June 2021
Stage 2 of Bob Hawke College is getting into full swing!
Construction is underway following a Welcome to Country by Neville Collard and an official sod-turning by Premier Mark McGowan and Minister for Education and Training Sue Ellery in late April. They were joined by Principal John Burke, staff, students, College Board and P&C members, and representatives from PACT Construction and Hassell Studio to officially mark the next exciting step in the College's journey.
Before the end of June, six new hard courts and the new permanent north-western pathway and bridge will open between the College (north of the sports hall), Subiaco Oval and Subiaco Road. Students will soon have direct access to Subiaco Oval and the new hard courts directly from the College. These new temporary hard courts are located on the site reserved in the Subi East Master Plan for a potential future shared community facility and will be available to the community outside of school hours.
The school and local community may start to notice increased activity around the construction site. A crane will soon be installed, and there will be increased construction vehicle traffic.
As always, our emphasis is on ensuring student and staff safety. No heavy vehicles will travel to or from the site during peak times – that means no trucks between 8.00am and 9.00am, and 2.45pm and 3.30pm, as students come to and from school. College staff will continue to supervise students as they arrive and leave the College.
If your child attends the College, please contact them for any questions about your child's schooling. For all other questions about Stage 2 construction, email us at CapitalWorksAndMaintenance@education.wa.edu.au.
Stage 1 construction began in 2018, opening to the first Year 7 students in 2020. In this video, take a flying tour of the College facilities now open, and watch three years of construction take shape in two minutes!
Explore Stage 2
View perspectives of Bob Hawke College Stage 2 in our image gallery.
Enrolments now open
Explore Bob Hawke College's new website and find out about enrolments, curriculum and College life.
You may also be interested in
You may also be interested in