27 October 2023
In the news
Public school life
A message from the Director General for World Teachers' Day
There are countless stories about the extraordinary passion and dedication of the remarkable educators who care for our children in public schools, but one bittersweet tale of two teachers has left an indelible impression, touching me deeply.
Between them, Geoff and Yvonne Strack have stood in front of classrooms for 90 years, spending the last 65 of these together teaching at the same school. That's two full lifetimes of service - they'd have to hold the world record for being the longest serving married couple in education, surely.
Both were due to be celebrating their well-earned retirement, but tragically Yvonne passed away last year after a brave battle with brain cancer. While she may not be with us, her memory and incredible legacy live on.
Yvonne met Geoff in Kalgoorlie way back in 1982, the first teaching post for these fresh-faced graduates. Following a short stint, they went their separate ways until the universe stepped in and a strange twist of fate saw them both get jobs at the same metropolitan secondary school. Here they fell in love and got married soon after.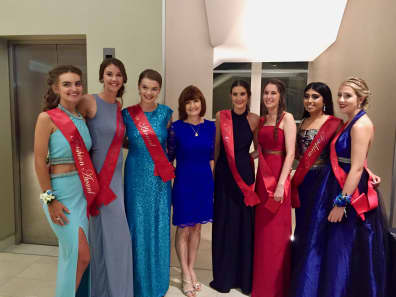 Geoff was a science teacher with a love of physics and chemistry and Yvonne was technically a textiles teacher, but wore so many other hats – seamstress, award-winning quilter, costume maker and designer.
When she and Geoff both moved to Carine Senior High School, she started a fashion parade to showcase the beautiful creations produced by the class. Together Yvonne and the girls would spend countless hours preparing, with this annual event becoming the highlight of the year not just for the school, but the whole community. She would help her budding wardrobe artists sew gowns which they would wear with great pride to their Year 12 ball. On that special evening they'd always insist on having a photo with the wonder woman stylist behind their stunning dresses, who'd become a friend, confidante and den mother to them all.
She was also a star maker, with many she taught going on to impressive careers, including one who now works on London's famous West End as a costumier for movies like Mission Impossible and Aladdin. It was a precious claim to fame for the humble Yvonne, who cheekily made this young lady promise if she was ever to win an Academy Award, she expected a mention in her acceptance speech.
Yvonne also taught home economics, connecting with hungry teenagers through their stomachs and love of food, so you can add cook to her list of many talents.
With tomorrow being World Teachers' Day, Yvonne epitomises this year's theme of 'Hats off to Teachers'. Our educators wear countless different hats, sometimes many on the same day.
When it came to the Kimberley floods earlier this year devoted teachers became bus drivers, co-pilots, counsellors and cleaners as they picked up the pieces after the waters subsided. They travelled by truck, bus, boat and plane to reach remote schools, and were key contacts, working alongside emergency services to help with the flood recovery plan.
There are over 58,000 teachers across Western Australia who deserve recognition for shaping the lives of their students through education. Not only on World Teachers' Day, but every day. They are the ultimate gift to our children, their families and our whole community.
In the next few weeks, I am looking forward to meeting Geoff in person as I attend his very special retirement ceremony. This will be a day filled with great happiness, but also a sense of loss, as he is without his darling wife and partner in crime. I will be acknowledging the unparalleled contribution both Geoff and Yvonne have made to the lives of thousands of our young people, by giving of themselves so generously, and working well above and beyond any call of duty.
While Yvonne will not be there in person, she will be in spirit and Geoff will certainly have an angel by his side. I have a sneaking suspicion that Yvonne will be looking down from above, dressed in her finest robes - designed and sewn by herself of course – as she celebrates up in the heavens.
In Perth, landmarks including the Matagarup Bridge, Mount Street Bridge, Sky Ribbon, Joondalup Drive Bridge and Northbridge Tunnel will be lit in purple tomorrow night to honour her and all the amazing educators who inspire and impact our children.
Happy World Teachers' Day Yvonne, Geoff and teachers across Australia.
With all my heart, I salute you, I applaud you and I thank you for everything you do for our students every day.