A science teacher who wears a lab coat tagged with various scientific terms may be an odd sight for many students, but not those at Melville Senior High School.
Teacher Science, Melville Senior High School. WA Secondary Teacher of the Year 2015.
Students in Guy Stapleton's classes are often met with props, costumes and music to help learn scientific concepts. They never know what he has in store for them – and that's exactly why they love his classes.
"Mr Stapleton does his teaching differently to most teachers," says Zoe, a Year 12 human biology student.
"He makes us interact with what we're learning so we're not just looking at the board and taking notes."
Classmate, Lee, agrees: "Every lesson is something new. One day we're doing puppetry, another day there is a lab, the next day we'll be watching tonnes of videos. Mr Stapleton keeps us interested and we enjoy coming to his classes."
On this particular day, Mr Stapleton – last year's WA Secondary Teacher of the Year – starts his class with a pillow stuffed up his jumper. He is demonstrating different body shapes, specifically the body shape of an Eskimo, in a very visual way.
"Eskimos typically have long barrel chests – which I demonstrated with the pillow. The resulting small surface area to volume ratio helps them to retain heat in a very cold environment," explains Mr Stapleton.
"Demonstrations like these give me a chance to dress up and it's very memorable and different for students. Students also get a surprise and it provides momentum for the lesson."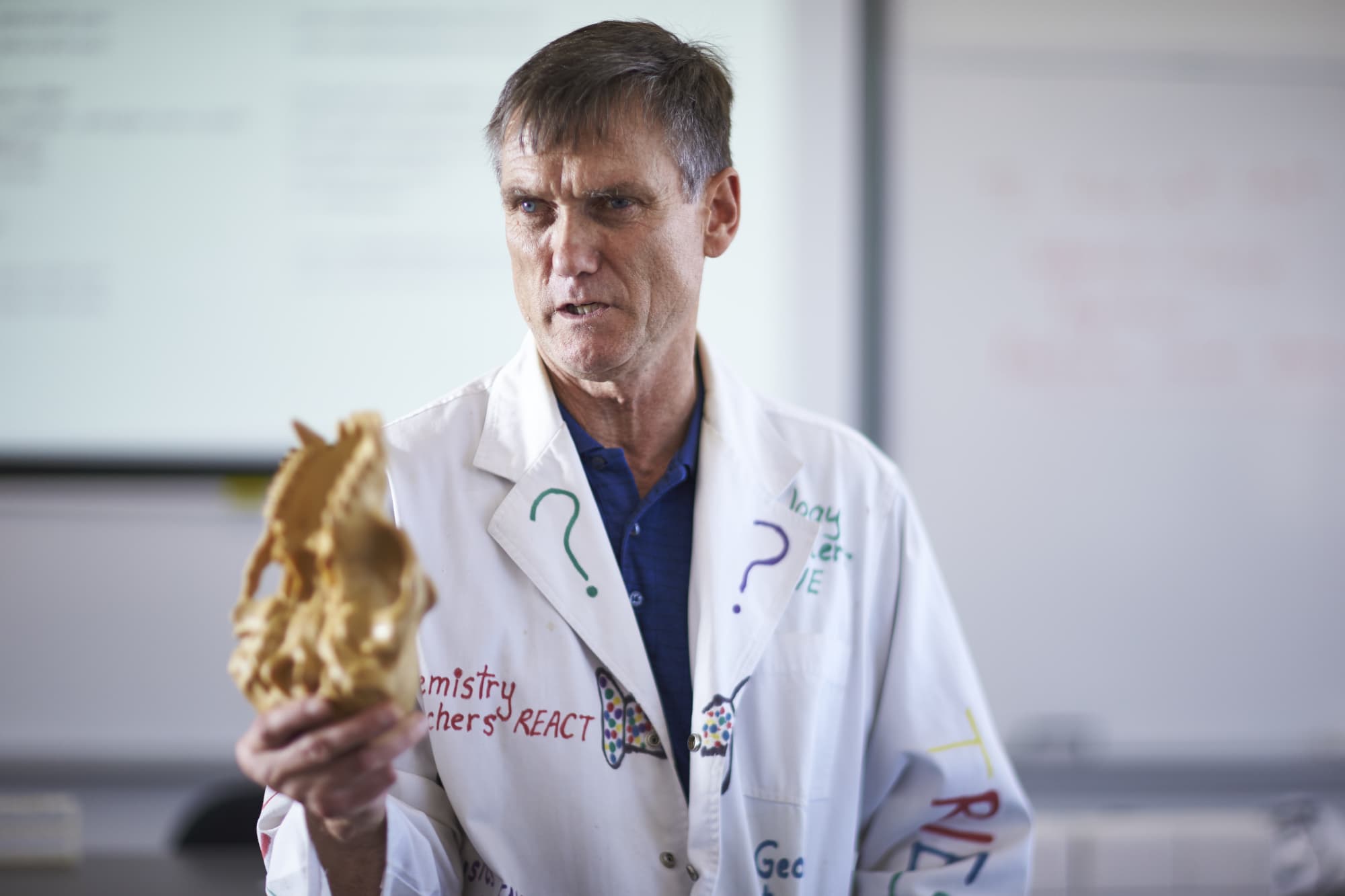 Mr Stapleton, who has been teaching for 30 years, was recognised in last year's WA Education Awards for his unwavering commitment. He combines a love of technology with an intuitive knowledge about how students learn, and shares his powerful strategies with other teachers.
Mr Stapleton says seeing students learn and enjoy learning is what he loves most about his job, which is why music plays a vital role in his lessons.
"Lots of people identify with music, enjoy music, and listen to it, so using music provides an opportunity to help students learn," Mr Stapleton says.
His students certainly agree. They are quick to sing his praises and are always looking forward to the next learning experience.
Mr Stapleton is also using Connect, the Department of Education's online learning community for students, teachers and parents.
"Connect is a great initiative that impacts on the lives of many by being the window into the classroom that links the teacher, their students and their parents together in a community of learners," he says.
"Combining many different resources in the one location for the many student learners that we have is just terrific."