More than 100 West Australian public school students took part in the annual Walk for Reconciliation in Perth to mark the conclusion of National Reconciliation Week.
Students from Coodanup College, Kiara College, and Fremantle College were among those who walked from WA Museum Boola Bardip to Yagan Square, passing through the Perth Cultural Centre.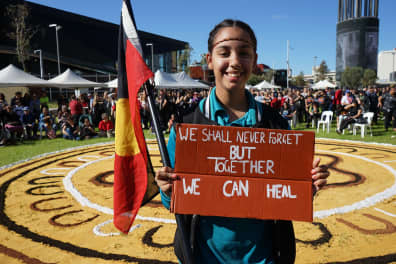 The walk was a showcase of leadership, support and solidarity with the Reconciliation movement.
It began with a Welcome to Country, didgeridoo performance and traditional smoking ceremony.
The Walk for Reconciliation coincides with Mabo Day, which students and staff reflected on as they walked together.
Kiara College Noongar language teacher Rebecca Garlett said it was important to teach students about reconciliation while they were young.
"I hope the students learn about harmony and empathy towards all people, not just Indigenous people, but all people in general. If we walk together we can support each other," she said.
Fremantle College Year 12 student Destany Winter said the walk was an opportunity for students to come together and learn about Australia's history.
"I think it's really important for all of us to know the history of Australia and by doing this we are all accepting it, moving forward, supporting everyone involved, and bringing everyone together," she said.
Coodanup College Stars Foundation cultural leader and Year 12 student Bonnie Hall said the walk provided the chance for everybody to come together as one.
"The walk was an opportunity to move forward from our past so we can do greater things in the future and become one, be one community, and one happy family," she said.