There were cheers and smiles when the Lynwood Senior High School specialist soccer academy ran a carnival for primary students with special learning needs.
About 200 students from specialist education support centres and schools came together to embrace inclusivity on the pitch, try something new, and participate in a fun game of soccer.
Interest grows each year in the carnival, highlighting the positive impact sport can have on students of all abilities.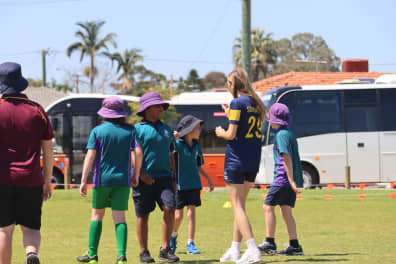 The carnival offers specialist soccer academy students the chance to develop their coaching and leadership skills, while the primary students learn teamwork, friendship, and sportsmanship.
Lynwood Senior High School soccer academy teacher Tony Campbell said there were also plans to host an athletics carnival for the education support primary school students.
"We work on all aspects of the game including coaching and refereeing. It is a great opportunity for them," he said.
"These opportunities add that extra something, not just for our students, but for the students from the primary schools, they absolutely love it."
Lynwood Senior High School soccer academy student Layla said it was a great experience to provide encouragement to the younger students.
"It's good to get together and be one team," she said.
Attending schools included Riva Primary School, Maddington Education Support Centre, Carson Street School, Kalamunda Education Support Centre, Cloverdale Education Support Centre, Success Education Support Centre, Riverton Education Support Centre, Gwynne Park Education Support Centre, Coolbellup Learning Centre and Malibu School.