Immersive high-tech Anzac app
21 April 2023
In the news
Public school life
Comet Bay College will bring Anzac stories to life through a new augmented reality (AR) app to be launched on Anzac Day.
The Anzac XR App transports users to historic locations and enables them to get up-close-and-personal with Australian war heroes, military vehicles and equipment.
Features of the app include digital AR projections of veterans, vehicles, locations, uniforms and equipment which provide a unique and immersive learning experience.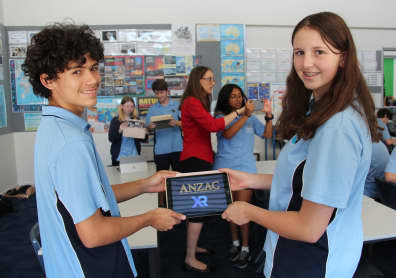 The app was produced in collaboration with developer Viewpoint XR and will educate students about Australia's military history and the sacrifices servicepeople made.
The app can be used as a classroom tool to teach history lessons in an interactive and engaging way.
Comet Bay College humanities staff have created lesson plans to complement Anzac XR, which will be shared with all schools in Australia.
The Anzac XR App will also be available for download by all Australians on a smartphone or tablet.
Comet Bay College principal Kelly Bennett said she was thrilled the school was given the opportunity to develop the cutting-edge app.
"The augmented reality military vehicles and equipment can be viewed either miniature or life-sized, giving users a 360-degree immersive experience to further enhance their understanding of military history and experiences," she said.
"The software developed will allow us to add more characters, features and content down the track, ensuring the app is an unlimited educational resource."
Comet Bay College Year 10 student Vaanya Agarwal had a sneak-peak of the app prior to its launch and said she was impressed by the clarity and detail in the AR technology.
"I'm really looking forward to exploring the app more," she said.
"I think it has a lot of really interesting features."