Sally Bradley, Swan View Senior High School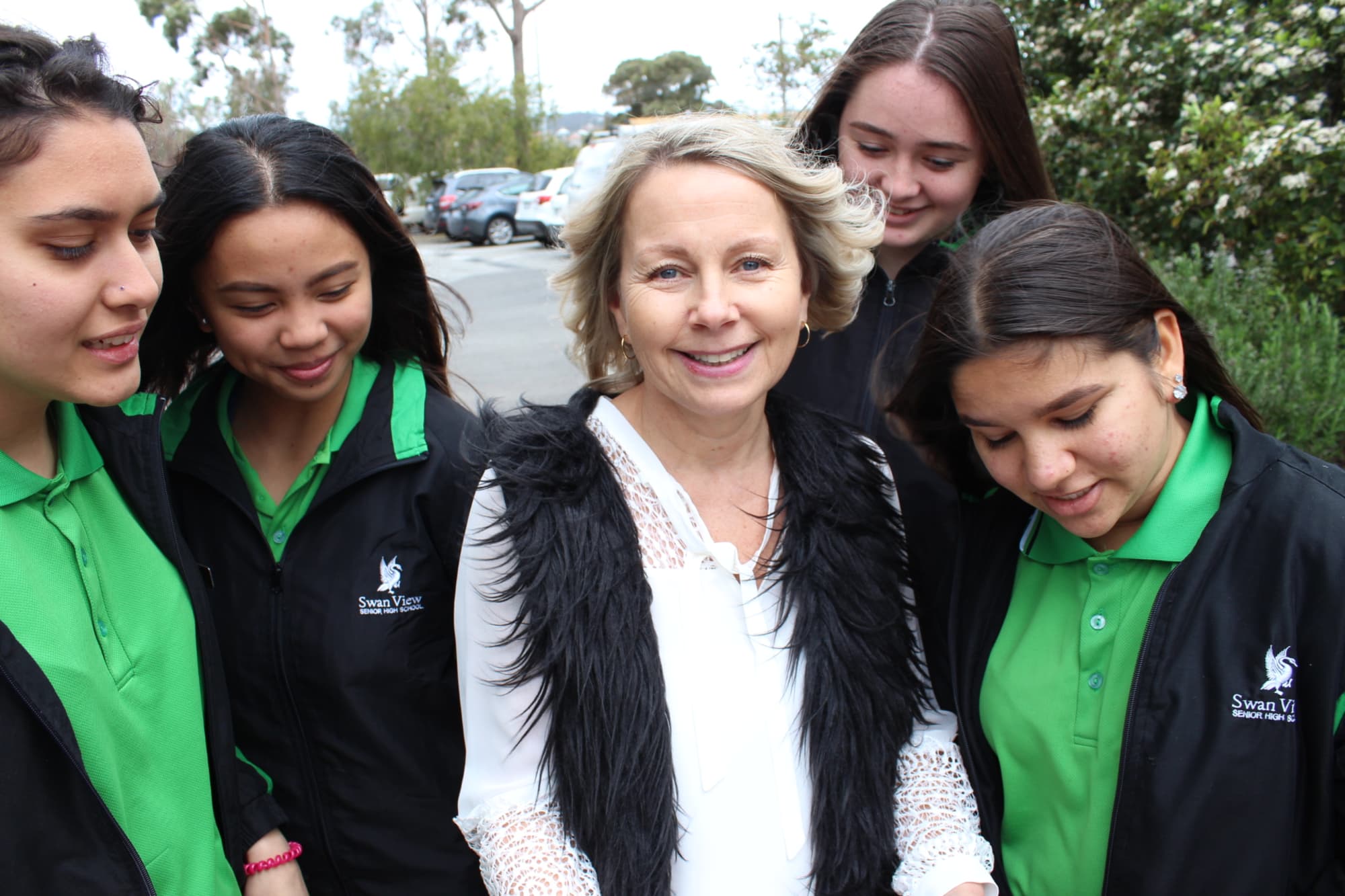 Out of her comfort zone
For Swan View Senior High School's public relations and school promotions officer Sally Bradley, seeing students succeed in overcoming challenges is what drives her.
When she first moved to Perth from the UK in 1996 with her family, Sally had little support. But a newly-found friend encouraged her to apply for the role of library officer at Swan View Senior High School and Sally's life changed.
Described as a defining point in her life, Sally soon realised her passion was working with children and her new role led to a career which has given her a real sense of purpose.
Working at the school for more than 20 years, Sally stepped up to the role of public relations and school promotions officer when the opportunity was presented to her five years ago, and she has been tirelessly creating opportunities for students since.
"Believe it or not, I never had any aspirations to work in education. I left school at 16 and really didn't think it was an option for me," Sally says.
"My principal Melesha Sands has been a wonderful influence on me. She amazes me every day as she goes about her business in a calm professional manner.
"She was the one who pushed me to get out of my comfort zone and to step into a new role. I was very nervous and apprehensive, once again not believing in myself, but I look back now and I cannot believe how much I have grown and I have to say I am very proud of myself.
"A comfort zone is a beautiful place but nothing ever grows there."
Sally is passionate about the programs she coordinates, particularly her work with the Australian Business and Community Network and on the Aboriginal Innovation Project. Her work with network encourages the more reluctant students to get out of their own comfort zones and attend some of the professional workshops they offer.
She also works closely with Aboriginal students and their families inspiring them to take part in special programs and giving them opportunities to pursue their passions.
"Sally is the reason our students get the opportunities that they do through our partnerships with the Australian Business Community Network," says principal Melesha Sands.
"She coordinates and facilitates the Aspirations Program, Women in Leadership Program, Interview for Success and additional programs that arise each year out of our Business Class partnership with the organisation Multiplex.
She is also a tutor in the Follow the Dream program and has supported numerous students to access scholarships and opportunities.
"She is the heart and soul of our school and her impact is seen at student, staff and community level."
Melesha says Sally's enthusiasm, resourcefulness, 'can do' attitude and commitment to students are infectious.
Sally recalls a time when a former Head Girl of the school was reflecting on the Focus-Women in Leadership workshops that she attended while in Year 10. The student said she learnt so much about herself and how to be a great leader, which helped her in her role as Head Girl two years later.
Another student who left a lasting impression on Sally had a challenging home life and had experienced terrible sadness throughout her childhood. Sally says the student was someone who never complained, had 100 per cent attendance, was in the Achieving Curriculum Excellence program and always had exceptional grades.
"This student is a born leader and participates in everything she does with such passion," says Sally.
"She has made me grateful for everything I have in my life and has taught me not to take anything for granted. One day she will be the doctor she aspires to be."
Sally holds fond memories of her own childhood school experiences and remembers her primary school head master, Mr Smelt, as showing plenty of passion for his job and empathy and being highly respected by students and parents.
But her greatest early inspiration was from a secondary school teacher, Mr Nichols. Sally recalls Mr Nichols as being caring and supportive and believes he had a huge influence on how she now works with students.
She knows the influence teachers and school staff can have on the lives of young people and wants this to reflect in her work.
"I want students to remember me as someone they could always rely on to help them be the best version of themselves and strive to be the best at whatever they do in life," she says.
"Watching students, after six years of secondary schooling, find themselves, grow and blossom – that is a very emotional and rewarding event."
---
WA School Services Staff Member of the Year
This award recognises the important work of school services staff in making sure schools run well and smoothly. By managing day-to-day financial, administrative, technical and hands-on operations, they contribute to their schools providing the best learning environments for students.
Proudly sponsored by Modis.
Winner:
Sally Bradley, Swan View Senior High School
Finalists:
Lena Durbridge, Warwick Senior High School
Mac Jensen, Wiluna Remote Community School
Peter Schmidt, Como Secondary College