Supporting student success
Girrawheen Senior High School
Girrawheen Senior High School is a place full of opportunities and has a range of unique programs for students to learn, grow, and achieve.
With a strong sense of community within the school, staff focus on ensuring students feel supported, and principal Barbara Newton says that's what students love most.
"Our students are most grateful for their teachers' support and care. Students are supported on an individual basis, so they feel valued and have a sense of belonging," says Barbara.
At the beginning of 2022, Girrawheen Senior High School launched the Elite Sports program, partnering with Curtin University Athletics Club, to develop students' competitive spirit and passion for self-improvement. The core focus areas of the program are fitness and training, growth mindset, and personal best.
Students spend weekly sessions before school in athletics and basketball, tracking their personal growth while learning about the importance of physical education and being healthy.
Barbara says the healthy competition between students has translated into improved focus, attendance, academic achievement, and excitement to learn.
The importance of dance, visual arts and media is never underestimated at Girrawheen Senior High School, with a wide variety of learning opportunities made possible by passionate teachers.
This year the school has worked with the WA Youth Theatre Company to provide after-school classes taught by industry professionals and has also collaborated with Youth Ballet WA.
"Our partnerships provide industry expertise and opportunities for students to perform at a professional level, engage in real life projects to improve the community, and take on challenges," Barbara says.
The dance program is centred around being supportive of one another, building friendships, confidence, and self-esteem, which all reflects in the team's name of Unity.
Another area that Girrawheen excels in is science, technology, engineering, and maths (STEM). The weekly after-school STEM Club, run by 2021 WA Premier's Secondary Teacher of the Year Charan Pabla, is popular with the students.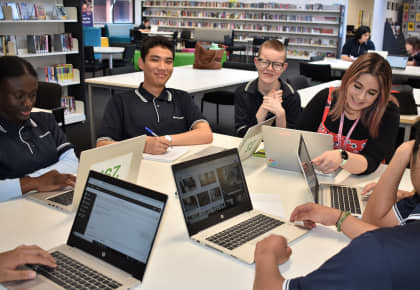 Students have won national competitions, had hands-on workshops in robotics and drones, worked to find creative solutions to everyday problems, and together seize all opportunities available.
It's not just teachers who lead the way providing support to students, but students do too.
This year, to empower and encourage personal growth for Years 10, 11 and 12 students, a new opportunity was created for them to become student ambassadors and develop their skills as leaders.
They act as mentors to primary school students to encourage a positive attitude and help reduce any feelings of anxiety when moving to high school.
Barbara says her philosophy on education is that every student can learn.
"My advice to students is do your best and be your best," she says.
When asked what makes Girrawheen Senior High School stand out from other schools, Barbara identified diversity as a strength.
With 30 per cent of students not speaking English at home, and a quarter being First Nations students, it brings a valuable perspective to the school community.
Aboriginal culture and language are being shared through a new Noongar language class, and students are working together in the new elective ecology course to create a native garden and yarning circle.
This, as well as Clontarf Academy, Stars Foundation and the programs run by the Organisation of African Communities, has led to an increase in confidence and cultural pride displayed by First Nations students, and students from African backgrounds.
"Our goal is for students to become citizens who positively contribute to society, who, when leaving high school, take with them a positive attitude towards learning, life and their place within the world," Barbara says.
When speaking about the success of students, Barbara says students' results always exceed expectations, but success also looks different for each student.
"It can be academic or growth in confidence, skill development, representing the school, engaging in the workplace," she says.
"Success for us is that every child is in a pathway and on a journey to a successful future."
Winner
Girrawheen Senior High School
Finalists
Girrawheen Senior High School
Halls Head College Education Support Centre
Shenton College
Learn more about our winners
Learn more about our winners