Aboriginal languages and Torres Strait Islander languages are the original languages of Australia and many are critically endangered. We are committed to continuing these languages by teaching them in public schools across the state.
There are almost 10,000 students learning Aboriginal languages across 68 schools. Each of the 24 languages we teach is unique to Country. Languages connect people with Country, with each other and to ways of seeing and interpreting the world in the past, the present and the future.
The 24 languages taught in our schools are:
Kimberley education region
Bardi
Bunuba
Gooniyandi
Miriwoong
Ngarinyin
Nyangumarta
Nyikina
Juwaliny
Karajarri
Belaa
Mangala
Walmajarri
Yawuru
Yulparija
Pilbara education region
Martu Wangka
Nyamal
Yindjibarndi
Nyangumarta
Goldfields education region
Martu Wangka
Ngaanyatjarra
Ngadju
Pitjantjatjara
Wangkatja
Pintupi
Midwest education region
North Metro, South Metro, Wheatbelt and Southwest education regions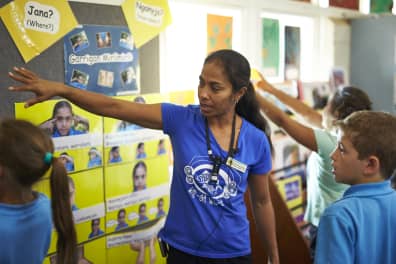 Learning Aboriginal languages supports Aboriginal and non-Aboriginal students to develop a strong sense of identity, pride and self-esteem that strengthens wellbeing and engagement. Aboriginal language programs build respect for Aboriginal histories, cultures, people, knowledge and experiences amongst students and their families, school staff, and the broader community.
Our schools play a vital role in language learning and supporting community language revitalisation. Aboriginal language teachers use their knowledge, skills and lived experience along with community support, to successfully teach the language and positively incorporate Aboriginal knowledge into the curriculum.
There are currently 40 Aboriginal people undertaking language teacher training. As custodians of the language, their commitment to the revitalisation, renewal, reclamation and continuation of their language is essential in ensuring future generations of young Western Australians will continue to learn Aboriginal languages.
Aboriginal Languages Implementation Guidelines are available for schools and provides valuable information about:
respectful collaboration with the local Aboriginal community
how to establish a Language Advisory Group
identifying an Aboriginal Language Teacher or Trainee
supporting the Aboriginal Language Teacher or Trainee
For more information about implementing an Aboriginal Languages program, or how to enrol in the Aboriginal Languages Teacher Training program email AboriginalLanguages@education.wa.edu.au
If you are interested in Aboriginal languages, visit the 50 word project to listen to and learn 50 words in Aboriginal languages from across Australia.
First Languages Australia Committee Member, Theresa Sainty, shares the work of the organisation with the audience of World Expo Dubai: