Ngaanyatjarra Lands inspire Heywire winner
02 August 2022
In the news
Public school life
For the first time in its 23-year history, a winning entry in this year's ABC Heywire competition has been produced entirely in Ngaanyatjarra, an Aboriginal language of the Gibson Desert.
Charlotte Golding, from the Warakurna community in the middle of Western Australia's Gibson Desert, presents her moving Heywire story in the Ngaanyatjarra language.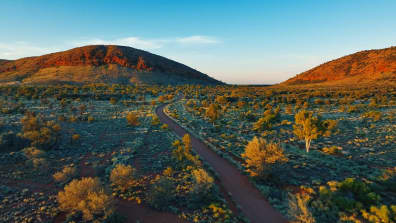 ABC's annual Heywire cycle begins with a storytelling competition, which is open to people aged 16 to 22, living in regional or rural Australia. Heywire encourages young people to tell stories about their life outside the major cities in text, photo, video or audio format.
Charlotte, from the Warakurna Campus of Ngaanyatjarra Lands School, was encouraged to enter the competition last year by her Year 10 teacher and Warakurna principal, Ms Shelly Maes, who set the class the task of entering Heywire as a school project.
The class completed the written component of the storytelling competition under the guidance of ABC Heywire producer Katie McCallister, who provided writing workshops for the Warakurna students via Zoom.
Charlotte discovered in December 2021 that her written entry had been selected as the winning entry for the Goldfields-Esperance region. Part of being a winner meant Charlotte worked with Heywire producer and film maker Chris Lewis to turn her written story into a film.
In January of this year, Heywire producers travelled to Warakurna to work with Charlotte, Ms Maes, and Charlotte's family to record the film. They spent a week together, travelling across the Warakurna community, filming the beautiful and emotionally significant footage. Katie coached Charlotte on her speaking, while Charlotte's mum, Eileen, translated the story from English to Ngaanyatjarra.
Of particular importance was the visit to Yirriya, where Charlotte's great-great-great-grandparents used to live. "My great-great-great-grandmother died in that place and she got buried there, a long, long time ago," Charlotte said in her story.
"It's here that we used to cook kangaroo tails and have lots of lovely barbecues with my family. Yirriya was a green place with lovely plants everywhere and bush flowers. But now it's all dry.
"I hope we keep the camels out from Yirriya, or maybe one day we'll build fences around Yirriya so the place can be safe and healthier."
When Charlotte's Heywire video was broadcast to the community in late July, she received a standing ovation.
"Charlotte has inspired the entire community," Ms Maes said. "It's been such a positive experience for her and for all the other students."
Watch Charlotte's winning Heywire video. To enter this year's Heywire competition, visit the ABC website.