Achieving excellence
Narembeen District High School
Located in Western Australia's Wheatbelt region, Narembeen District High School provides students with a locally relevant and rich educational setting.
Despite its regional location, the school has a strong focus on ensuring students are not disadvantaged by isolation.
It has a positive learning environment where excellence is encouraged in all areas of education, including academically, socially and on sports fields.
The school has built meaningful partnerships with the surrounding community, including forming strong ties with local businesses, while staff are actively involved in a range of community groups.
"We are a high performing rural school that caters exceptionally well for our small but proud community — the result of a team of parents and staff working collaboratively," principal Christine Arnold says.
Christine adds Narembeen District High School is dedicated to the mental health and wellbeing of staff and students.
The school has a range of mental health strategies which led it to be one of four schools selected as finalists in the WA 2021 Mental Health Awards.
These include practising mindfulness in all classes at least three times per week, a wellbeing room called the Happiness Hub for students who need a quiet space, and mental health first-aid training for staff.
The whole school community also takes part in several annual events including family days, yoga days, friendship days, NAIDOC Week, Reconciliation Week and R U OK? Day to promote togetherness and belonging.
"The school's positive culture sees us with happy, well-adjusted students, who strive to be the best they can be. They have great pride in their school and its achievements," Christine says.
Programs that boost student success include a strong focus on reading education, as well as whole school literacy and numeracy programs to equip students with these vital skills from a young age.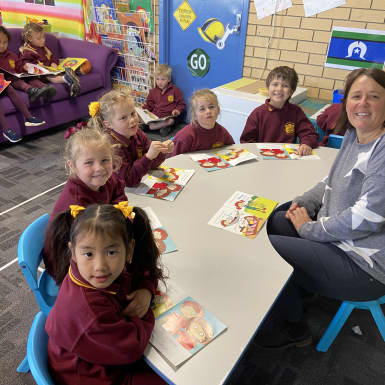 When a hard of hearing student enrolled at Narembeen District High School, all staff completed a short Auslan course. Auslan then went on to become the language all students from Years 3 to 8 learn.
There are also teaching specialists in music, physical education, science and IT working with primary school students.
The school also has an impressive list of sporting achievements, including winning swimming championships for 18 of the last 19 years, and a cross country shield for the last 23 years.
"Our motto is 'preparing students for a changing world' and we certainly have excellent programs in place and teachers in classrooms to enable them to achieve to their potential," Christine says.
"Our aim is to ensure all our students achieve their personal best and continue to grow, not only academically, but morally and socially. We guide them to respect individual differences and develop pride in themselves, their school, their environment and their community."
At Narembeen District High School, staff are committed to providing quality teaching and work collaboratively to ensure high levels of achievement and progress for every student.
Graduate teachers also have access to experienced mentors who provide guidance and advice.
Students have the opportunity to provide feedback on teaching through student voice surveys, allowing teachers to reflect of their methods and consider the needs of students.
Christine says all these elements set students up for their best future possible.
"Our staff are committed, experienced, enthusiastic and highly professional in their endeavours to provide differentiated learning programs that engage all students, leading to improved outcomes," she says.
"We pride ourselves on our culture of excellence and success. We have an extremely positive school culture that enables our students to learn in a safe, positive, inclusive and caring environment."
Winner
Narembeen District High School
Finalists
Bunbury Primary School
Harrisdale Primary School
Narembeen District High School
Wananami Remote Community School
Learn more about our winners
Learn more about our winners