Leading the way
Shenton College
At Shenton College, leadership exists at every level of the school.
From the teachers guiding lessons in the classroom, to the students influencing their peers to make change in the community, and the staff sharing their expertise and resources with fellow schools – there is a strong leadership culture across the college.
The impact of Shenton College's exceptional leadership approach is seen in the outstanding student results.
No matter the pathway, whether it be ATAR or VET, student success is the result of the continued efforts of teachers and leadership teams.
Shenton College principal Mike Morgan says outstanding academic results are just one part of the rich schooling experience it delivers.
"Successful Shenton College students are not only academically able – they're strong team members, they care for others, and they want to give back to the world," he says.
"Far from an institution of routine testing and grades, we've created an environment where students obtain real-world knowledge and understanding, and develop the emotional and social intelligence needed not only to become active life participants, but also to be remarkable leaders."
Students can develop their leadership skills from when they first enter the college.
Shenton College has a student council with 80 elected representatives from Years 7 to 12, where students lead activities, advocate for change, and deliver on fundraising commitments for local not-for-profit organisations.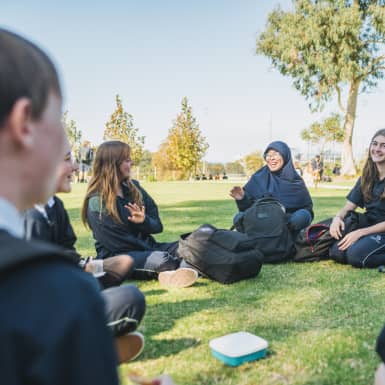 There are also student action groups that empower classmates to make a difference on issues they feel passionate about. Leadership skills are developed through these projects that enact real change.
One such group is the Project Carnaby, coordinated by a Year 11 student, focused on saving the endangered Carnaby Cockatoos.
"Our approach enables students to make crucial real-world and cross-disciplinary connections as they grow in their knowledge and understanding," says Mike.
Every member of the college has the opportunity to be an effective leader, and this begins with staff who model appropriate leadership for students.
For staff, leadership starts by creating thriving learning environments.
Teachers have regular opportunities to build their capacity through professional development. As part of this, students are also given a voice to provide feedback on teaching practices.
"We're committed to continuing to provide an innovative and responsive education experience that nourishes the whole child, embodies a broad definition of success and strives for excellence in every aspect," Mike says.
"Our aim, which guides our teaching, structure and planning, is to prepare confident, outward-looking, collaborative young adults for a life of agency, contribution and fulfilment."
In 2014, Shenton College introduced Auslan which is now one of the most popular courses available.
Staff and students have also participated in culturally responsive leadership workshops on-Country. Respected Noongar Elder Dr Noel Nannup joined the school board and helped guide the formation of the culturally responsive steering committee, Dandjoo Djena Koorliny.
"Our expansive and responsive curriculum is an example not only of our commitment to developing the full range of our students' skills and interests, but also an expression of our important role in the wider social, cultural, professional and intellectual 'village'," Mike says.
Shenton College staff regularly share their experience with other schools. As a Teacher Development School, they offer support to regional and metropolitan schools across Western Australia to develop strategies, programs and teacher capacity to extend and enrich student learning.
Leading the way in technology, the school was the first in Western Australia to sign up to Compass, an online school management platform. During COVID-19, this ensured the school community stayed connected and learning was as familiar as possible.
The college also leads with collaboration, forming meaningful partnerships with Broome Senior High School, Albany Senior High School, universities in Western Australia and other local community groups.
Mike says it is the way students and staff guide, offer direction, influence and inspire that enables everyone at Shenton College to reach their goals.
"Our students understand the world they're poised to engage with in so many new and important ways, which makes them better prepared, more able to find and follow a fulfilling path, and more driven to contribute to society in skilled and valuable ways," he says.
Winner
Finalists
Leeming Senior High School
Shenton College
South Thornlie Primary School
Learn more about our winners
Learn more about our winners