Public school graduates win scholarships
28 March 2023
Reward and recognition
Public school life
Four Western Australian public school graduates have been recognised as future leaders as part of a prestigious scholarship program.
Former Perth Modern School students Lucius Beh, Juliet Roux, and Jessica Doan and Mariya Faisal from Lynwood Senior High School were each awarded $10,000 scholarships from the UWA Fogarty Foundation.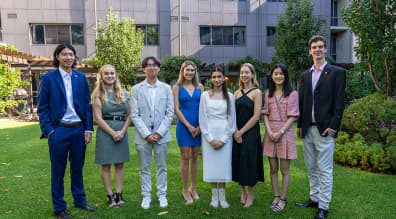 Perth Modern School Principal Mitch Mackay praised the students for their dedication and hard work over many years at the school.
"Perth Modern School is very proud of Jessica, Lucius and Juliet," Mr Mackay said.
"They are exceptional students and wonderful individuals who will undoubtedly contribute greatly to the future of Western Australia in their chosen field.
"We look forward to hearing of their continued success."
Students who were able to demonstrate excellence in areas such as arts, community service, leadership, and sport during Years 11 and 12 were eligible for the award. They achieved high academic accolades and demonstrated integrity, emotional intelligence, resilience, and initiative.
The scholarship aims to invest in students who could be future leaders and aspire to make a positive impact on their communities. The recipients can use the scholarship to assist with university costs, living expenses and career support, among other future leader-shaping benefits.
Jessica Doan won the 2022 Beazley Medal for achieving the highest examination marks across five ATAR courses. She is now studying for a Bachelor of Biomedical Science with an Assured Pathway to Doctor of Medicine.
Read more about Western Australian
public schools
. Applications for the 2024 UWA Fogarty Foundation Scholarship open soon. For details, visit the
UWA website
.