2020 Premier's Anzac Student Tour
The 2020 Premier's Anzac Student Tour has been amalgamated with the 2021 tour group.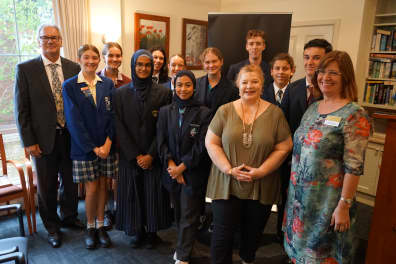 Participants will travel to Kununurra, Broome, Rottnest and Albany from 16-26 April 2021, visiting important historical sites as well as Anzac commemorations.
Student participants
Students from Years 8 to 11 from 27 secondary schools entered the competition, writing submissions on the impact of the Anzac tradition on modern Australia by exploring a selected Western Australian individual, community or group and their significance.
Congratulations to the 10 successful student ambassadors for the 2020 Premier's Anzac Student Tour:
---
Darcy Reid
Year 10, Bunbury Senior High School
Student inquiry: The Significance of Singapore's Fall
Darcy Reid participates in the Gifted and Talented Program and the Specialist Music Program. Darcy enjoys all subjects and has a passion for History, for which he has received multiple awards. Darcy participates in his school's Senior Concert Band and Jazz Band as a trombone player. Darcy's great-great-grandfather, Clifton Thomas Ballingall, fought on the Western Front as a Battery Sergeant Major in the 3rd Australian Medium Trench Mortar Battery where he received a Distinguished Conduct Medal in WWI. His grandfather, Ronald William Reid, fought in the 106th Field Artillery Battery during the Vietnam War.
---
Samuel Cameron
Year 10, Central Midlands Senior High School
Student inquiry: The 1942 Bombing of Darwin
Samuel Cameron enjoys History, sport and Maths, and has received awards for outstanding academic achievement. Out of school, Samuel enjoys playing many sports especially footy where he enjoys the team dynamics as well as the game itself. Samuel has a number of relatives who have served in the Australian Defence Force including John Thomas Bell who served in the 4th Australian Light Anti-Aircraft Regiment, and Alec William Cowden who served in the Royal Australian Navy aboard a number of ships including the Yandra in WWII.
---
Aleesya Amirizal
Year 10, Champion Bay Senior High School
Student inquiry: Colonialism in World War II
Aleesya Amirizal studies Maths, Science and Humanities through the Gifted and Talented Online program. She plays clarinet in her school's band. Aleesya is dedicated to netball, and was a member of her school's 2019 Country Week team. She also enjoys studying HASS, especially History. Aleesya has immense respect for those who have served, and greatly values how determined, hopeful and good-spirited they were despite enduring difficult situations.
---
Max Simmons
Year 11, Dalyellup College
Student inquiry: Japanese Marshall Admiral Yamamoto Isoroku
Max Simmons applies himself in every subject, and takes special interest in History and Geography. His hobbies focus on exploring the outdoors, with mountain bike riding being a particular favourite. Both Max's great-grandfather and great-great-grandfather served in the Australian Defence Force and survived WWII and WWI respectively.
---
Maya Gibson
Year 10, Denmark Senior High School
Student inquiry: Admiral Chuichi Nagumo
Maya Gibson is a member of the Specialist Basketball program. Maya studies English and HASS with the Gifted and Talented Online program and particularly enjoys the History component of HASS. Maya's two great-uncles fought in WWI: George Henry Bracknell in the highly regarded 11th Australian Infantry Battalion and Leonard Arthur Bracknell in the 51st Infantry Battalion. They both departed Fremantle on 2 November 1915 aboard the HMAT Ulysses A38 for the battlefields of Europe where George unfortunately died of wounds in August of 1916 while Leonard returned to Australia at the war's end in 1918.
---
Sophie Taylor
Year 10, Methodist Ladies' College (previously Karratha Senior High School)
Student inquiry: Jacobus Vermulen
Sophie enjoys all subjects at school and has studied Humanities with the Gifted and Talented Online Program for the last 3 years. Outside school, Sophie is involved in both BMX and mountain biking, and has been a member of both the State and national teams which involved travelling to the BMX World Championships in Azerbaijan in 2018. Sophie volunteers as a junior coach. Family members from both sides of Sophie's family were involved in WWI and WWII in the Air Force and Navy. Sophie's paternal great-grandfather was a prisoner of war in Singapore during WWII, and she is looking forward to learning more about this theatre of war.
---
Aaliyah Ebrahim
Year 11, Australian Islamic College
(previously Melville Senior High School)
Student inquiry: The Australian Prisoners of War Image Analysis
Aaliyah Ebrahim participates in the Gifted and Talented program. While she enjoys most subjects, English and History are particular favourites. As an Australian Air Force Cadet, Aaliyah undertakes flying, field craft, drill and ceremonial activities, and achieved the rank of Corporal in 2019. Aaliyah is a Duke of Edinburgh Gold Award participant who enjoys charity work, volunteering, and visual arts. She is eager to gain insight to the sacrifices of Australian service personnel and pay homage to their legacy.
---
Sacha Bell
Year 10, Mount Lawley Senior High School
Student inquiry: Operation Jaywick
Sacha Bell participates in the Academic Enrichment program, and is a Senior Cadet in the Mount Lawley Bush Rangers. Sacha is the house captain for Hackett and has spent 5 years in the Scouting movement, participating in a trip to Adelaide with Scouts from all over Australia, as well as multiple Anzac Day and Remembrance Day vigils and ceremonies. Sacha is interested in investigating the connection between Australian Soldiers, nurses and communication workers.
---
Grace Hailes
Year 10, St Mary's Anglican Girls' School
Student inquiry: Singapore's Civilians Under Japanese Occupation
Grace Hailes enjoys all subjects with particular interest in History, English and Science, which she studies within the Gifted and Talented Program. Grace represents her school in interschool debating and has been in several Drama productions. Grace's great-grandfather, Vernon Woods, was an Australian solider who served in the 2/28th Australian Infantry Battalion. His wife, Molly Woods, was a Women's Army spotlight girl working in Fremantle. Grace's three great-uncles - Basil, Walter and Ian MacPherson – served New Zealand in WWII. Basil was a radio operator in the Signals division of the 4th Field artillery; Walter served in the J-Force in Japan and Ian MacPherson served in North Africa with his brother, Basil.
---
Isabella Hulm
Year 9, St Norbert College
Student inquiry: Favourite Sons: The story of the 2/4th Machine Gun Battalion and John Gilmour
Isabella Hulm has received numerous academic awards and her favourite subjects include English, Drama and HASS. She proudly represents her school in Tournament of Minds, the Aurecon Bridge Building Challenge, SciTech Challenge Days, Dockers Cup Girls' Football and the Junior Drama Club. Isabella is a Student Representative Council member, and she contributes to the Magdeburg House Committee. Isabella is currently researching her great-great-grandfather, Arthur Cecil Frost, who served and was injured in WWI.
Staff participants
Mr Tony Granich, Deputy Principal at Hampton Senior High School, and Ms Emily Donders, Assistant Head of Learning Area (HASS) from Rossmoyne Senior High School have been selected as teacher supervisors attending the tour alongside tour coordinator Ms Samantha Boswell.
Student entries
Students were required to prepare an extended written response of no more than 1000 words on the following topic:
Using a chosen form of writing for specific effect, explain the impact of the Anzac tradition on modern Australia by exploring a selected Western Australian individual, community or group and their significance to you.
Eligibility
Schools conducted their own selection processes and could nominate up to three students in each of the three categories of Years 8/9, Year 10 and Year 11. Students entering needed to display:
a genuine interest in the Anzac experience
an appreciation of the study of history
excellent interpersonal skills and self-confidence
a willingness to share their tour experiences (if selected) in their school and local community.
To be eligible, all entrants required a nominating teacher and endorsement by the principal to confirm their suitability to represent their school, community and the State as a youth ambassador on the 2020 Premier's Anzac Student Tour.
Judging
Submitted entries will be judged by a selection panel.
| | |
| --- | --- |
| Student applications close | 5.00pm Friday 16 August 2019 |
| Teacher supervisor expressions of interest close | 30 August 2019 |
| State finalists are advised | Monday 23 September 2019 |
| State finalist interviews | 3-4 October 2019 |
| Announcement of 10 successful students | Monday 11 November 2019 |
| Pre-tour briefing | 27-29 February 2020 |
| Tour to Darwin, Sydney and Canberra | Postponed |
More information
Curriculum Support
E: anzactour@education.wa.edu.au
T: 9402 6422