Harrisdale Primary School special educational needs students have launched a pen pal program with a local aged care facility as part of a club aimed to develop the skills needed for life beyond the classroom.
The Harrisdale Primary School Social Club launched in 2020 and involves the students meeting weekly for an hour to carry out different life skill activities such as cooking, sewing, shopping and gardening.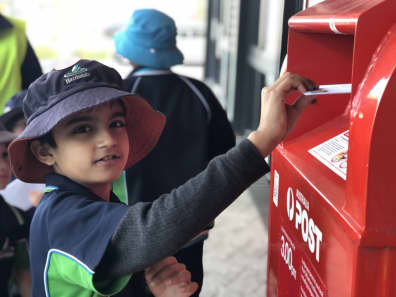 The club allows the special educational needs students to develop their socialisation skills, etiquette, confidence and, most importantly, have fun.
As part of the Social Club, the students launched a pen pal program with residents at a local aged care facility.
The students wrote the letters and then walked or rode a tricycle to the local shops to buy stamps and post their letters.
This also helped develop their road safety skills and encouraged safe communication with the wider community.
It is hoped the students will be able to visit the pen pals at the residential care at the end of the year to present a small gift and do an activity together.
Harrisdale Primary School staff member Julie Hugo said since starting the Social Club, students have built on their socialisation, communication and confidence.
"We offer Social Club once a week for an hour to develop personal and social capabilities of special needs students. In these sessions we try to develop life skills and social interaction with each other," she said.
"Simple activities such as following a recipe allows students to understand literacy and numeracy concepts in a hands-on environment. This also helps them to develop procedural tasks and life skills such as cooking.
"The students are always enthusiastic about attending Social Club and the staff are always kindly reminded multiple times by the students when it is Tuesday and time for the club."