Teacher maps out geography win
A Perth geography teacher passionate about educating students on the environment and climate change has taken out a top geography award.
Comet Bay College humanities and social sciences teacher Sara Tyrrell won the 2023 Gentilli Memorial Award for her outstanding contribution to geography education.
The award, presented by the Geographical Association of Western Australia, recognised Mrs Tyrrell's innovative teaching practises including the introduction of eco-tourism to geography studies.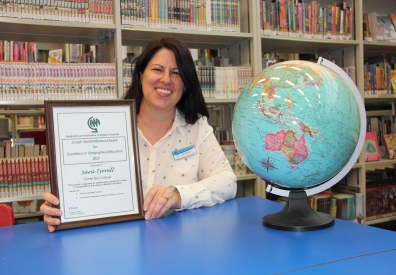 Mrs Tyrrell's lessons have led to recent student successes in both state and national competitions.
Judges also acknowledged the impact her teaching had on boosting student participation, with the number of students choosing ATAR geography at Comet Bay College growing in recent years.
Mrs Tyrrell said the win was surprising and emotional.
"I have always been inspired by the previous winners of this award because they are outstanding in their field, so it really is a great honour to have won," she said.
"I'm very passionate about protecting our environment, so I am dedicated to teaching students about climate change.
"If I can pass on my passion through teaching, I think I can have an impact on future generations, because climate change is one of the biggest challenges we are facing."
The award is named after the late Dr Joseph Gentilli whose studies identified a hole in the ozone layer above Tasmania before it was formally acknowledged.