Student Council empowering change
21 August 2023
Events and initiatives
Public school life
Members of the 2023 WA Student Council have come together to help tackle one of the biggest issues among their peers.
Student Council ambassadors had the unique opportunity to sit down and chat with 2023 Australian of the Year, Taryn Brumfitt.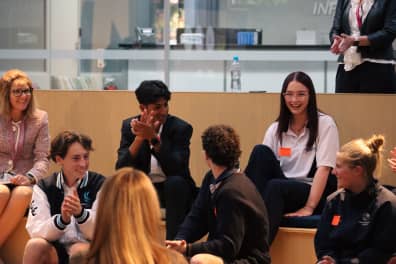 The students met with Ms Brumfitt to discuss body image issues that are affecting students and what they think would help make change within their school communities across the state.
Ms Brumfitt's insights and experiences provided invaluable guidance and helped combat the students' concerns.
Katie Russell, who is in Year 11 at Southern River College, has been a part of the council for the past year and said her experiences had been invaluable.
"I feel really privileged because not many students get this opportunity," Katie said.
"I feel like what Taryn does… I'm really happy that it's being implemented for younger generations.
"We get to meet such a diverse range of like-minded individuals and we got to actually make tangible change and have a true voice.
"It's such a unique opportunity, and I get to have amazing experiences. Us being able to do this means we do get to make a change for future generations."
Balcatta Senior High School Year 10 student Charlie MacPherson-Lee sees her role on the council as a platform to amplify the voices of often overlooked students.
"Anything to do with student mental health and just making sure students across the board in all of WA are heard is the big thing for me," Charlie said.
The council provides a platform for the student ambassadors to represent themselves and their peers, and to have their say in education policy.
The inaugural council was appointed in September 2022.
Teachers and principals are encouraged to nominate Year 9 students to be a part of the upcoming 2024-2025 student council body. For more information, email Caitlin Brotchie at caitlin.brotchie@education.wa.edu.au.