Public school students win State's top awards
22 December 2021
Reward and recognition
In the news
Two WA public school students have been awarded the State's peak education awards for their outstanding Year 12 performances.
The 2021 Beazley Medals were awarded to Lawrence Nheu, a Perth Modern School graduate, and Charlotte Crossen, who attended the WA College of Agriculture – Cunderdin.
Lawrence won the Beazley Medal: WA Certificate of Education for the highest exam marks across five ATAR courses in Year 12.
Lawrence received 'A' grades across all his Year 11 and 12 courses and was Dux of Perth Modern School. He is now looking forward to studying medicine next year.
He also won a General Exhibition, Subject Exhibition and Subject Certificate of Excellence: Economics, Subject Exhibition and Subject Certificate of Excellence: Physics, Subject Certificate of Excellence: Mathematics Specialist and a Certificate of Distinction.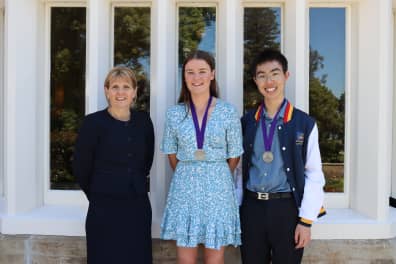 Charlotte was awarded the Beazley Medal: Vocational Education and Training based on her outstanding Year 12 performance in a VET program.
Charlotte also received a VET Exhibition and VET Certificate of Excellence: Primary, Environmental and Animal Care, a Certificate of Merit, and achieved a Certificate II and III in Agriculture, a Certificate III in Pork Production, a Certificate III in Advanced Wool Handling, together with several other qualifications.
Her broad range of VET skills will support her plans of continuing with her VET studies and exploring opportunities in the agriculture industry. She also completed four ATAR courses and may continue to university in the future to study agribusiness.
The presentation to the State's top two students was held at Government House, hosted by the Honourable Kim Beazley AC, Governor of Western Australia in the presence of the students' families and school representatives.
The efforts of this year's Year 12 students were celebrated with 3941 awards won in 2021 in total, including 50 General Exhibitions and 41 Subject Exhibitions.
Perth Modern School had the highest number of General Exhibition winners, taking out 12.
The Honourable Kim Beazley AC, Governor of Western Australia, said the winners should be proud of their hard work and commitment to their studies that had provided such a wonderful result.
"I congratulate all of today's award winners and the whole 2021 Year 12 cohort for their efforts and would like to also acknowledge the support of families, friends, teachers and school staff," he said.