On-Country immersion education
A group of Bunbury students have traded the Southwest for the Northwest as part of an On-Country learning expedition.
More than 20 students from Manea Senior College travelled to Yandeyarra Remote Community School for a week-long cultural education experience to learn beyond the classroom.
Now in its second year, the annual expedition immerses students in the local Aboriginal history and culture and allows them to experience what it's like to live and learn in a remote community.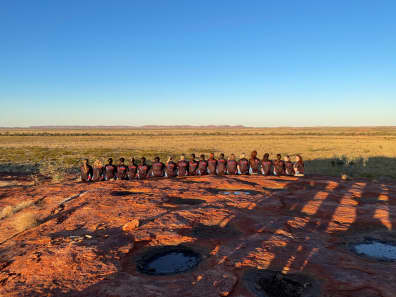 The students from Yandeyarra were proud to share their stories and culture while also learning from the Bunbury students and forming new friendships.
The expedition was developed by Manea Senior College teacher David Crawford to give students a unique learning experience that would stay with them for life.
The aim was for students to have an immersive experience and learn On-Country.
As part of the trip students went on an overnight camp, participated in clean-up activities, assisted with the community garden and helped run a community movie night.
Mr Crawford said on top of these community projects, learning about Aboriginal culture and history was a key focus of the trip.
"They participated in Indigenous language classes, joined in on collaborative sessions with community Elders and learnt how to cook kangaroo tails and damper in an open fire," he said.
"The partnership between our two schools allows for continued expeditions to take place exposing students to realisations of living in a remote community and the hardships that are faced as a result.
"I'd personally like to thank Andrew the principal and all the staff at Yandeyarra Remote Community School for all their help and guidance on the expedition, as without them being the unbelievable people that they are, my students would not get the experience that they had."