Iconic Fish 'n' Chip Shop Takes Centre Stage
Year 5 Manning Primary School student Oliver Newman has won the Phillip Pendal Young Heritage Award, after writing a story about Como's iconic fish and chip shop.
Run by the South Perth Historical Society, the writing project is open to all students in the City of South Perth, who are encouraged to take a picture of something in their local area, research it, then write about its historical significance.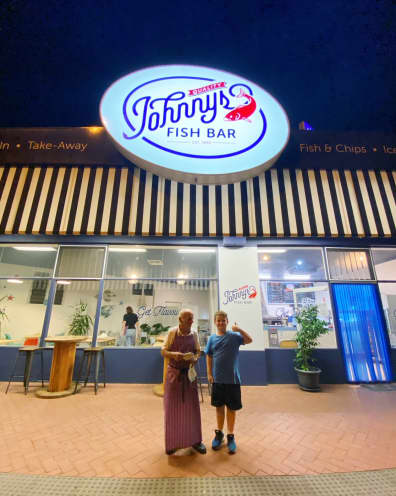 Oliver's story – 'The Fish-Tastic Tail of Two Johnnys' – is based on 78-year-old Anthony (Johnny) Stamelos, who has worked at Johnny's Quality Fish and Chip Bar in Como for 53 years.
"They do the best fish and chips in the City of South Perth!" Oliver said, when asked why he chose to write about Johnny's. "I wondered how old Johnny was and how long he's worked there for. I thought you were supposed to retire at 65 but he's 78 and still working – I thought that sounded both crazy and interesting together!
"My mum remembers buying her fish and chips from there when she was my age. It's been around that long!"
Now in its 14th year, the awards are open to all school students from primary through to secondary school. Oliver also won the award last year, and each time pocketed $600 cash prize plus books for him and his school.
"I will enter every year until Year 12 if I can," Oliver said. "It's fun! You get to take photos, research and write.
"A customer told me a funny fact, too! The great banana shortage in the 1990s, when the floods in Queensland destroyed all the banana crops, meant prices of bananas went through the roof, which meant Johnny had to stop making banana fritters. He took them off the menu as they became too expensive.
"It's funny because the shop still traded great during COVID, but a few bananas stopped them in their tracks all those years ago! Also, back then, fish used to be less than $1 and chips were 5c!"
Award finalists are currently on display at Heritage House until 14 August.