Community recognition for local teacher
28 March 2022
In the news
Reward and recognition
Mandurah Primary School principal, Natasha Upcott, has recently been recognised by the local community for her contributions at school and beyond.
The Mandurah Local Legend Award is a monthly recognition of people within the community who have contributed to a stronger future for Mandurah.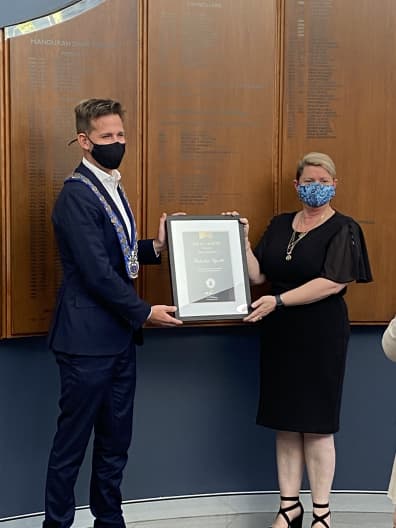 Ms Upcott was surprised to receive the award after an anonymous nomination.
"It was a humbling experience to be nominated for a whole community award," Ms Upcott said.
"I am proud to represent, advocate, lead and empower our community."
Mayor of Mandurah, Rhys Williams, acknowledged Ms Upcott's passion and involvement in the local community and making Mandurah Primary School a positive learning environment, as some of the reasons why she received the award.
Since stepping into the role of principal at Mandurah Primary School in 2011, Ms Upcott has worked towards building relationships with the community and teachers at the school, and created a school culture that is inclusive, welcoming and celebrates success.
"The best part of being a principal is being able to see the inter-generational change for families experiencing challenges, achieve successes and become active members in the community," she said.
Outside of school, Ms Upcott is also an active member of several not-for-profit organisations including the local women's refuge, Koolbardies Talking, and Peel Schools Say No to Violence, to name a few.
Road safety is another area that Ms Upcott is passionate about, working with the City of Mandurah and families impacted by loss and near misses, to empower the community by teaching road safety to students.
Ms Upcott is grateful and proud of the team at Mandurah Primary School.
"I'd like to thank our school community, staff, students and parents for their support and collaboration, and their trust in me. I'd also like to thank the city of Mandurah."