Celebrating primary school principals
Primary school principals are dedicated leaders who make a remarkable difference to the education and lives of young students and school staff.
Today is Australian Primary Principals' Day, an opportunity to celebrate and thank primary school principals for their commitment to creating outstanding learning environments that let students thrive.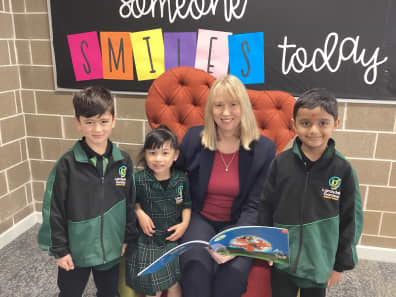 Landsdale Gardens Primary School principal Natasha Doyle, Wellard Village Primary School principal Jackie Huts and Dayton Primary School principal Ray Boyd are the first leaders of their brand-new primary schools that opened their doors to students in 2023.
To celebrate Australian Primary Principals' Day, these three foundation principals shared their stories about what it is like to be a school leader.
Why did you pursue a career in education?
Natasha Doyle: I have always loved school and learning. Being able to share this love for learning and provide opportunities for my students to reach their full potential inspired me from a very young age that I wanted to be a teacher.
Jackie Huts: With two parents as educators, I think I was born to teach. I love seeing the pure joy on children's faces when they succeed, there is nothing more rewarding than seeing your hard work in action.
Ray Boyd: Initially it was not my first choice, I wanted to be an architectural draftsman like my dad. He suggested maybe being a physical education teacher so I got into education and trained as a primary school teacher.
What do you enjoy most about being a principal?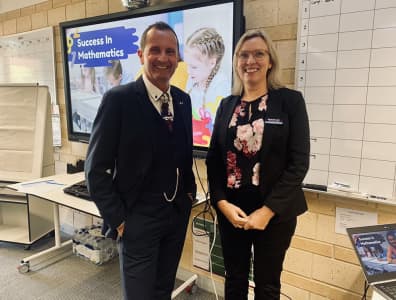 Natasha Doyle: It is a very exciting job with every day bringing new challenges. No two days are ever the same. I love that I can make a difference to the lives of the students in my school and that I am part of the school's overall success.
Jackie Huts: Being part of every child's life at my school and influencing their future. I love greeting my students at the gate each morning, seeing their smiling faces, and then farewelling them at the end of the day, with the same smiles, knowing they had a great day.
Ray Boyd: It is very much a cliché, however the ability to make a difference is one of my favourite things about being a principal.
What is it like being the principal of a new school?
Natasha Doyle: Being a foundation principal is one of the most challenging yet rewarding opportunities I have been given in my entire career. Starting from scratch is no easy feat but seeing all the planning and decisions come to fruition is exciting.
Jackie Huts: I feel privileged to be one of the lucky few who get this opportunity, you have to be solutions-focused and prepared for anything. Creating a positive school culture where everyone is unified, connected and feels like they belong, has made each day a joyful experience.
Ray Boyd: It is very challenging. That said, the opportunity to actually build something from the ground up in terms of the school's culture, the instructional framework, the programs and the pedagogies that operate across the school is exciting and not something every principal has an opportunity to do.
Why do you think it is important to celebrate primary school principals?
Natasha Doyle: Principals are usually very humble people that work tirelessly to ensure that their school is an exciting and engaging place where all children love to be. It is important to recognise a job well done.
Jackie Huts: I think it is important to acknowledge the hard work of school leaders that is not often seen by the wider community. There are so many elements to our role and many principals across our system go above and beyond what is required to ensure the best for our students.
Ray Boyd: I read a quote once that said something along the lines of good leadership is never noticed more than when it is absent. What I do find hard about the principals day is that, certainly from my experience and in my case, I am only as good as the people that I have around me.