03 June 2022
Events and initiatives
In the news
Schools across Western Australia commemorated National Reconciliation Week to learn about Aboriginal histories, cultures and achievements.
Running from 27 May to 3 June, the week is an opportunity to explore how each of us can contribute to achieving reconciliation in Australia, with this year's theme being "Be Brave. Make Change.".
Leonora District High School marked the week by beginning to build a yarning circle and cultural garden that will be an important space where students can learn about Aboriginal culture and history.
It is hoped projects such as these will ensure reconciliation continues throughout the year, not just during National Reconciliation Week.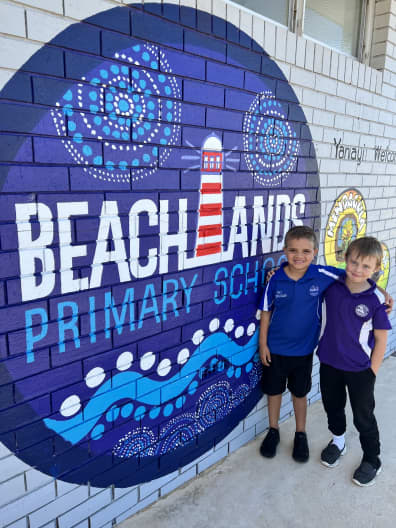 This is the case at Beachlands Primary School in Geraldton, where Aboriginal education is at the forefront of student learning with language and culture embedded in day-to-day practice.
The school has a successful Wajarri language program that has been running for almost 10 years and all students are encouraged to have a go at speaking and learning the local language.
Students also take part in a range of On Country excursions with local community members to participate in STEM activities.
Principal Helen Barnes said she was proud to offer these programs at Beachlands Primary School.
"Through these quality initiatives we shine a spotlight on Aboriginal culture and histories. At our school, students experience quality education enriched in a culturally responsive environment," she said.
Beachlands Primary School is one of 85 schools across WA offering more than 20 Aboriginal languages to almost 10,000 public school students, an increase from 39 schools in 2016.
"Expanding the teaching of Aboriginal languages lies at the very heart of our commitment to reconciliation," Department of Education Western Australia Director General Lisa Rodgers said.
"Our young people have a genuine appetite to learn more about Aboriginal cultures and histories, and teaching Aboriginal languages is a powerful way to do this."
At Bruce Rock District High School Charlene Hayden and Shayna Campbell, a mother and daughter duo, have introduced Ballardong Noongar language and culture.
Students learn about animals and the six Noongar seasons, as well as how to construct sentences in Noongar.
Mrs Campbell, Aboriginal and Islander Education Officer, said it was inspiring to see students engage and use the language outside of school.
"The community response has been resoundingly positive with parents and community members saying how much the kids are learning and how enthusiastic they are to share the language," she said.
Wiluna Remote Community School is also leading the way in teaching Aboriginal language, taking out the Outstanding Educational Body Promoting Aboriginal Language Learning award at the 2022 Goldfields Aboriginal Language Awards.
Other celebrations across WA for National Reconciliation Week included the Yirra Yaakin Theatre Company visiting Winterfold Primary School where actors performed Bilya Kaatijin – Fresh Water Knowledge, which taught students Noongar language and the importance of accepting others.
Years 5 and 6 students also took part in The Blanket Activity, Koora Waangkininy Boodjar, an immersive activity which guided them through colonisation from the perspective of Aboriginal and Torres Strait Islander peoples.
Winterfold Primary School principal Steve Barry said it was important to immerse students in reconciliation activities to ensure change is made.
"As a driving force of change in society, schools have an important role to play in implementing and expanding on stories and activities that lead towards meaningful reconciliation," he said.
"Students in our schools are the reconciliation leaders of the future."
At Rosalie Primary School, students sang, danced, and learnt about the importance of hearing songs in Noongar language during a special visit from musicians Gina Williams and Guy Ghouse.
Music teacher Michelle Willis taught the students Djiti Djiti, one of Gina Williams's songs. After performing it with Ms Williams she explained the "Be Brave. Make Change." theme for this year's Reconciliation Week and how Djiti Djiti is a great example of someone showing bravery.
Meanwhile, students at Esperance Education Support Centre used key word signing to communicate the message "Reconciliation is about respecting and being kind to everyone, to all people, in Australia. It is about people being equal. It is about making the Australian community stronger. We're all in this together.".
Many schools also participated in smoking ceremonies, art projects and dreamtime storytelling with local Aboriginal community members.