A conversation could save a life
08 September 2022
Events and initiatives
In the news
Yarning circles, chit-chat cafes and mindfulness activities were some of the many ways Western Australian schools marked R U OK? Day to start meaningful conversations about mental health.
R U OK? Day, held on September 8, is a national day of action where Australians are reminded that every day is the day to ask, 'are you okay?'.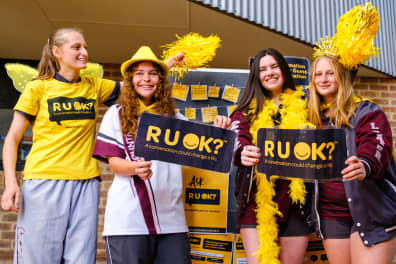 Schools held events to encourage students and staff to stay connected and have conversations that could help others through difficult times.
Atwell College set up a number of booths to mark R U OK? Day to provide students and staff the opportunity to engage with each other and learn more about mental health. Events included a photo booth, slackline, chit-chat café, spike ball competition and yarning circle artwork activity.
Baldivis Secondary College students visited a Mental Health Expo put together by their peers. Year 11 and 12 health students organised an all-day expo, which involved stress and time management stands to raise awareness.
Baldivis Secondary College Year 11 student Gian Lipasana said it was fun to organise the event.
"Helping and organising was a good experience. I enjoyed teaching younger students how to deal with stress," he said.
Coodanup College held a carnival where students were treated to a petting zoo, balloon making, photo booth, karaoke and food trucks. The college's education pony Toby and dog Vino were also there to spend time with students.
Sevenoaks Senior College students got crafty for their R U OK? Day. They decorated pancakes, made positive affirmation badges and took photos in the photo booth before sitting down and getting involved with mindfulness colouring.
Central Services staff at the Department of Education's East Perth office heard from former ABC sports broadcaster Glenn Mitchell.
Mr Mitchell spent two decades travelling the world covering elite sports all while experiencing mental illness.
In late 2006 he finally realised he needed medical help for his condition. He began a long and complex journey of self-analysis and various medications.
Mr Mitchell spoke with staff about the importance of checking in with someone who may appear to be struggling and not acting themselves.
"We are all responsible for mental health first aid," he said.
"We all have an opportunity to be able to do something.
"If you see someone who is not themselves, ask them if they are okay."