Doctor administers life lessons
Eighteen years after Dr Jesse Li first addressed a Mount Lawley Senior High School assembly as 2003 Head Boy, he returned to update the students on important life lessons gained fighting COVID-19 on the frontline, vaccinating the Prime Minister and making the best of any failures.
Addressing students via a live internet link up from Sydney this month, Dr Li said in the past 18 months he had worn more PPE than he ever thought possible, had been tested for the coronavirus more times than he could remember and had relied on values learnt at Mount Lawley Senior High School to get him through.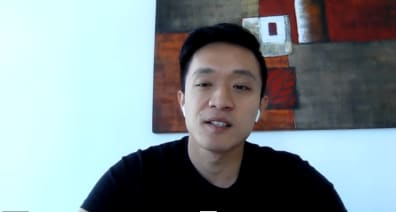 "To my teachers, I am forever indebted to you," he said. "Never underestimate the impact of your words of encouragement."
Currently the lead doctor working on Sydney's hotel quarantine program, Dr Li said he had been promoted early on into the leadership position after becoming known as the 'COVID guy' early in the pandemic. This was when he eagerly put up his hand in early 2020 to fill in and help out at nursing homes overwhelmed by the virus and experiencing daily deaths.
"The last 18 months have been a blur for me - COVID, running around and then the highlight this year was in February when I was nominated to deliver the first COVID-19 vaccine to the Prime Minister, the Chief Medical Officer and nine other people on national television," he said.
"I admit my hands were a bit shaky."
Dr Li, who studied Medicine at The University of Western Australia and underwent further post-graduate studies at Harvard USA, told the students that while his assembly speech was to honour Mount Lawley Senior High School successes, he wanted to also focus on the importance of accepting and learning from failure.
"The biggest and best teacher is life itself," he said. "There is going to be many more hard tests to come in life but make sure you face each one boldly because the failures in life teach you a lot more than the successes."
"Moving to Sydney, I had to work long hours in the hospital, sometimes up to 100 hours a week, and in 2019 when I took my final advanced training exam to qualify as a (emergency medical) specialist – an exam that was the culmination of about 2000 hours of study – I failed it. And up until then, I had never failed a single exam in my life."
Burnt out but unable to get away to re-energise through travel due to restrictions, he put his hand up to use his disaster medicine training to fight COVID where needed.
"Medicine often measures success through passing exams and academic achievement – but had I passed that final exam, I don't think I would have had the opportunity to serve on the frontline and fight COVID in the capacity that I have or be able to exercise my leadership muscle by building up a (hotel quarantine) project from the ground up," Dr Li said.
"One of the other things that I have learnt is sometimes what you are passionate about and what you are good at don't always align – and that's OK.
"Try and learn as much about yourself as possible and understand that growth and self-awareness are the ultimate prize and the ultimate hallmark of maturity.
"See your life as a journey. Be open to change."

Looking back to 2003, Mount Lawley Senior High School Chaplain Andrew Paul said Dr Li, who was also 2003 School Dux, had always been "enthusiastic, capable and diligent."'
"He was one of those people that when they leave school you knew that he would make a positive impact in whatever field or interest he would take up," he said.
"It's wonderful to see what he has gone on to achieve and to hear his positive attitude in tackling such an enormous issue as COVID."