2022 Premier's Anzac Student Tour
The Premier's Anzac Student Tour travelled intrastate from 9 to 19 November 2022.
Students from across Western Australia submitted their entries for the chance to be selected as ambassadors for the tour. Ten students from 9 different schools were selected to share in the experience.
The group travelled to Albany, Rottnest Island, Broome and Kununurra in commemoration of the 80th anniversary of the bombing of Broome and Darwin. Students were accompanied by 3 teacher supervisors.
Student ambassadors embarked on this unique experience as they investigated the Anzac legacy in the context of nation building between the wars, and explored defence of the home-front during World War II.
Tour members were guided by the question: Why might historical events matter to me, my community or the world?
Tour diary, Day 10: Broome
by Lilia Dorfman, Year 10, St Mary's Anglican Girls' School
We started this morning with a goodbye. A goodbye to Kununurra; to its scorching sun and mosquito ridden skies; to the stunning sunsets smeared behind an expanse of red dirt; to the lessons about the history of the small town in the north of Western Australia. Despite my eagerness to see Broome, I could not help but feel disappointed, and even a little upset. I had learnt so much in Kununurra, in terms of its history and about my new friends. I was not ready to leave all of my experiences behind. The only comfort was leaving with my suitcase packed full of new memories and stories.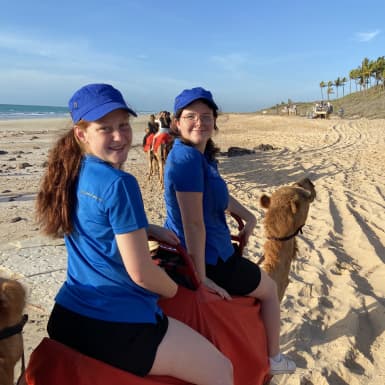 After a short flight, just over an hour, we touched down in Broome. My earlier disappointment quickly morphed into excitement. I had never been to Broome, and I was aware of the vast history that lay there, but never in as much detail as I would have liked.
Our first stop of the day was to the Broome Historical Museum, with our guest presenter Michael Lake. Michael designed a presentation tailored specifically to us, and to our guiding question for the tour: 'Why should historical events matter to me, my community and the world?'. For over an hour, Michael provided incredible insight into the bombing, or more correctly, the strafing of Broome, in multiple raids by Japanese soldiers on the 3 March 1942. During these attacks, at least 88 civilians were killed. But what really resonated with me, out of the multitude of information Michael lay before us, was the way he talked about the diversity of Broome, and how this ultimately led to reconciliation. He spoke at length about peace, about how those we once considered enemies can become friends and allies if we allow them to. What he said wasn't necessarily all specific to war, but something I will endeavour to apply to my life in the future. All too soon, it was time to say goodbye to Michael. He had taught all of us so much about Western Australia's history, and how close we were to action in the Second World War. I had not realised this before, and it made me want to learn more about Western Australia's involvement in history, and all the stories that we do not get told even as the victors.
Our next event was later in the evening, when the air cooled around us, at Cable Beach. We walked down the sand and rocks full of excitement: we were there for a sunset camel ride, which none of us could remember participating in before. It was the perfect way to end a day full of travel and large amounts of information.
I stared out into the ocean as the sun began to sink down the sky and reflected on my time participating on tour. Without a doubt, it was an experience I would never forget. But it wasn't just about the places I had been; it was about the people. From tour participants, who were once strangers, who are now some of my closest friends, to tour coordinators, guides and volunteers. The people who have participated in tour, no matter how small, have shaped my experience. Without a doubt, this is a once in a lifetime experience.
Finally, we went for our evening meal at the Broome RSL Sub-branch.
For me, the meal highlighted how far we had all come together, and how we had grown as people throughout the tour. I was saddened to think that in 24 hours I would be home, away from what I had grown accustomed to as my tour routine. But, when I talked to my friends, they helped me realise the tour wasn't over just because the 10 days were up; I would still participate in other people's tours. I would try my best to shape someone else's experience into something that they could never forget.
So, on our last night together, as the curtain on the 2022 Premier's Anzac Student Tour begins to close, I have realised how grateful I am to be here. I have realised that, even as our curtain closes, we will still stand together behind it. And, perhaps most of all, I have realised that the memories I have of tour will stay close to my heart forever. That, though the future and some aspects of history remain foggy, I know for certain.
Tour diary, Day 9: Wyndham
by Katherine Mullaney, Year 11, St George's Anglican Grammar School
Today was full of lots of adventures on our day trip in Wyndham, which is 1 hour north of Kununurra. As we drove down, Dylan, our tour guide, explained some of the scenery around us such as the cattle farms, the hills, and different rivers which we drove over. Our first stop today was the Pioneer Cemetery (1886-1929) which was Wyndham's first cemetery and was more commonly known as 'the bend cemetery'. Some of the graves in the area included early pioneers and meat works and construction workers, who died mostly from heat exhaustion. Despite this, no official burial register exists and there are many unmarked graves. Eventually it closed due to a lack of space and erosion of graves by the high tides. This was a particularly serious experience as none of us wanted to be disrespectful for the many people that passed away to help build Wyndham. However, it was still interesting to see the architecture of graves from the 1800s and early 1900s and how it differs to contemporary designs. As we drove to our next destination, we briefly stopped outside some old tractors and trains which were used in the meat works, one of which was called the 'Kaiser' which is the oldest surviving internal combustion locomotive in Australia, and it was built in Germany in 1912 and arrived in Wyndham in 1915 for construction of the meat works.
Our next stop was the Wyndham Historical Society Museum in the Old Court House with the lovely Hon secretary Chris McLachlan. One of the highlights there was learning about the
Koolama
, which sank just off the jetty in Wyndham when the town was bombed by the Japanese. On 20 February 1942 the
Koolama
, a WA passenger and freight ship, was bombed off the north coast of WA. Three Japanese planes dropped 18 bombs and 4 hit their mark. The ship's hull was badly damaged, and its steering was disabled. The mission lugger was sent out to retrieve women, children and the wounded. 93 men, led by local Aboriginal guides, walked five days to the Kalumburu Mission over rough terrain and the swollen, croc-infested Drysdale River. Over the next ten days the remaining crew made what repairs they could to the
Koolama
. On 1 March, Captain Eggleston made the decision to set course for Wyndham and, miraculously, the
Koolama
limped into the jetty with only bilge pumps keeping it afloat. However, on 3 March, eight Japanese 'Zero' fighter planes and a reconnaissance aircraft appeared on the horizon heading for Wyndham. At the jetty, the crew were forced to abandon the ship. The bilge pumps, left unattended, quickly failed. The ship rolled onto her starboard side and sank. It was easy to see that the sinking of the
Koolama
is a big part of Wyndham's war time history, and it's also very interesting to see how they remember the bombing of Wyndham in comparison to other war affected places in Australia. It was a lovely experience looking around the museum and inspecting all the old items and I personally felt very privileged to learn about this small piece of the war that had such a big impact on so many people.
The next part of our day consisted of lunch and meeting one of the 2023 Premier's Anzac Student Tour winners, Adoley Mensah, who lives in Wyndham. We explained to her our experiences and what we loved about our tour and some advice for her journey next year. She was very lovely, and it was great to see one of the next tour participants get ready for a once in a lifetime experience.
After lunch we briefly visited the Afghan cemetery, where we learnt about what role the Afghan cameleers played in Australia. Many of them travelled to the Goldfields in search of commercial prospects. To the surveying and building teams in the desert, their camels transported food and supplies. Western Australia's Goldfield settlements, including Coolgardie, Kalgoorlie, Menzies, and Leonora, benefited substantially from the cameleers' labour. We learnt later that the graves were so big because once the owner of a camel died, the camel was buried with its owner. Once again, it was a solemn experience as we recognised the benefits Australia received as a result of their work, however, we kept in mind this is the final resting place of many.
We stopped off at The Grotto and at Five Rivers Lookout for some amazing views and bit of exploration down the landscapes of both rocky areas. For me personally, my favourite part of today was stopping off at Molly Spring for a quick dip. Originally, I hadn't planned on swimming however seeing everyone cool off and having lots of fun made me change my mind and I spontaneously jumped in with all my clothes on. For me its moments like this that really bring people together and create core memories of how much joy we all felt in that moment. After 15 minutes of swimming around and jumping off rocks under the waterfall we made the journey back to Kununurra to the Warringarri Art Centre for the sunset tour that we missed the day before due to the tropical storm.
At the Warringarri Art Centre, we met Agnes and her daughter Kathy as they gave us a Welcome to Miriwoong Country, which was a very beautiful experience. We also met Kathy's nephew and niece. They took us to the upstairs gallery where we watched two animations from stories of Agnes' childhood and the issues she faced as a result of colonisation. It was sad and yet inspiring to learn about her story from her childhood and how she got to where she is now with her family. They took us through the studios where they made their artwork, and it was really cool to learn about the different ways they went about achieving their design. We then sat in a yarning circle to learn more about Warringarri, enjoyed some of the best damper I have ever had and learnt about local celebrations. We ended the day with a yummy dinner at the hotel and talked about our favourite parts of today and what we learnt. Overall, it was a lovely day of learning and experiencing new things from different places but also a different culture.
Tour diary, Day 8: Kimberley region
by Ewan Smith, Year 11, Safety Bay Senior High School
Kununurra had already been spectacular, seeing the incredible sights, following the incredible trails, and learning the incredible history of Kununurra. However, Day 8 really gave us an insight into some of Kununurra's remarkable wildlife and plants along the Ord River, specifically Lake Kununurra.

We were picked up early from the resort and taken straight to the boat, where we would embark on our 4-hour tour that would take us along 55km of the river. We had already seen some of Kununurra's beauty but not to the extent we would see it along this river. Rich soil along the banks of the river harboured the growth of swamp like trees and mangroves, as well as lily pads stretched out through the water with the local wildlife scurrying across them. From freshwater crocodiles to birds that would coil their necks back like a snake and launch into the water after their prey, the river was home to some of the most unique animals we had ever seen. Kununurra, a town that exists because of built irrigation, rivers and dams, is one of the most breathtaking places and certainly a highlight of the trip.


As none of us were from the Kimberley region we were not really prepared for the scalding heat, however, what we also did not expect was a thunderstorm raging through the skies in the afternoon. Not often had we seen so much rainfall, especially on a day that had been nearly 40 degrees all day. Nonetheless, after our moments of awe and amazement of the Kimberley region, we took this time as an opportunity to get a much-needed rest after 8 action packed days, capping off by an unbelievable Day 8.
Tour diary, Day 7: Around Kununurra
by Harley Heywood, Year 10, Narrogin Senior High School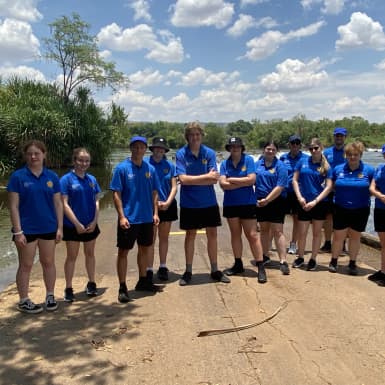 Today we had quite an early wake up and breakfast in an attempt to beat the heat, as we were going on an outback tour of Kununurra. After seeing the sights of the town, we headed up to Kelly's Knob Lookout to see the beautiful surrounds of Kununurra. Some of us then headed up the 1.2 km hill for an even better view which had a surprisingly lovely breeze even with the hot weather. We sat and talked and even got to see a black Wedge-tailed eagle flying above us.
We visited each stage of the Ord Irrigation Scheme. Over the day we came to realise what an amazing engineering project this was that had completely changed the landscape and essentially created the town of Kununurra. We stopped to look down onto the Diversion Dam to see the massive structure that regulates the water flow to the farmlands. We enjoyed our visit to Ivanhoe Crossing which, apart from being a place to cross the Ord River, is home to a 5 m crocodile known as the 'Gatekeeper'. Although we didn't get an opportunity to see it, the suspense was there, particularly when we turned our backs to the water for a group photo. We drove past the PumpHouse Restaurant. Although it is no longer used to pump water because gravity does most of the work, we learnt that they could get it up and running again if it was ever required.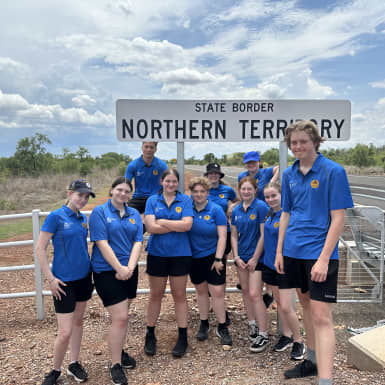 Following the path of the water, we went on a long drive through the agricultural area where they grow sugarcane, corn, sandalwood, chickpeas, chia seeds, pumpkins, mangoes, cotton and many other crops. We even made it out to the Northern Territory border, which was definitely a highlight. Being able to stand in between 2 states at the border was a fun photo opportunity.
After a delicious bakery treat, cooling icy poles, a swim and a rest, we ventured back out in a cooler part of the day to visit Miramar National Park where we wandered through the park looking at local trees and the erosion in the rocks, climbed the lookouts and we also got an opportunity to feel the cotton-like fibre from the seeds of the Kapok tree. Today was definitely a successful day.
Tour diary, Day 6: Perth and Kununurra
by Natalie Bradford, Year 10, Western Australian College of Agriculture Narrogin
After breakfast we met in the lobby to go for a heritage walk around Perth.
Highlights included seeing the Supreme Court and St George's Cathedral, as well as many other important historical sights, like statues and buildings of various architectural styles. It was a real eye-opener for me to see parts of the city that I didn't know existed, and to know that in the city there are still traces of history that we must preserve for future generations. We finished our walk in the Hay Street Mall where we stocked up on supplies for Kununurra, including summer clothing!
It was very exciting being on the plane and seeing all the amazing scenery of the Kimberley, like the red dirt and the river systems. Though turbulence got us worried for a bit, it was humbling to see the vast plains of the area, and to learn how isolated Kununurra is. The moment we landed the heat hit us like a bullet. I thought that I was surely going to die by the end of the day from heatstroke! Through the humid heat, we went straight to luggage claim where it took some time to get our bags.
Finally, after the last bag came around, we went back into the boiling sun to the bus that was waiting for us. I know that I was so keen to see what Kununurra was like and couldn't wait to start travelling around.
We arrived at the Kununurra Museum, run by dedicated volunteers of the Kununurra Historical Society, where we met with Andrew Barker (President) and Wendy Carter. They showed us around the museum and told us about the history of Kununurra and showed us memorabilia that was linked to war in the region. It was really intriguing seeing all the artefacts and articles they collected, and it made me appreciate this part of Western Australia. It didn't really cross my mind the amount of history and significance of this area of land until I saw it firsthand at the museum. I was fascinated by an old typewriter and tried to imagine how someone could write pages of work on it.
The bus dropped us off at our accommodation. It was a gorgeous place, shrouded with many tropical trees and plants. But, most of all, I loved the sheer number of lizards around. In our rooms, we were greeted with a eucalyptus scent and a cold aircon which was really refreshing after a long day. Eager to check out the pool, we got into our bathers and went for a quick dip (after, of course, checking for crocodiles) before going to bed, exhausted after our long, but fascinating day of travel.
Tour diary, Day 5: Rottnest Island
by Jack Holzer, Year 11, Margaret River Senior High School
With the ferry gliding along the Swan River, we already knew what to expect of Rottnest Island; stunning views of ocean vistas, warm weather and, of course, adorable quokkas, but today we were focusing on the island's distant past as a military fort in the lead up to, and during the Second World War.
Setting foot on the island's shores, I was honoured to perform the Acknowledgement of Country. Wadjemup, known to many as Rottnest Island, holds great significance to the Whadjuk Noongar people. In the last ice age lower sea levels meant people could cross to the island for gatherings and ceremonial rituals. Thus, the island's name, Wadjemup, means 'place across the water where the spirits are'.
Our own journey to Rottnest was to learn of the island's more recent history as a military outpost built to defend Fremantle. Rumbling along the tracks on Rottnest's humble train, the 'Captain Hussey', we met our guide for the day, Mike Murray. Mike gave us a tour of Oliver Hill Battery; the installation sporting a pair of 9.2-inch guns that once protected Perth from foreign threats, now sitting quietly at the crest of Rottnest. Walking around the underground tunnels that formed the Oliver Hill Battery complex I was amazed at the extent of diligent training and preparation done by personnel during the period, including the lengthy process of actually shooting the guns, which required teamwork between the women who would complete complex calculations to find optimal trajectories for shots and the team of male soldiers tasked with loading the hefty 172 kg shells into the gun and firing them. When Mike told us that the crew had streamlined such a process down to an impressive rate of 3 shells per minute, we were amazed.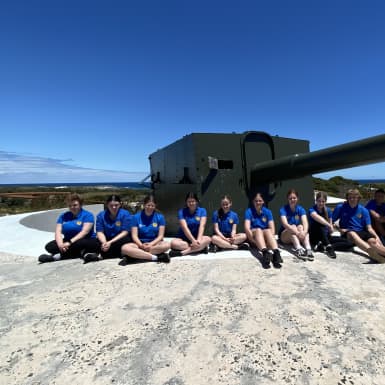 Visiting Kingstown Barracks later in the day, we were able to have an insight into the everyday lives of those stationed on the island, which shared similarities to modern day life on Rotto; soldiers were able to go swimming on the island's tranquil beaches and social gatherings were held for the men and women. However, life on Rottnest wasn't all fun and games; the threat of invasion by Japan was pervasive and smothering.
Mike told us about the real fear held by people of Perth if the city was really attacked, and the dire consequences an invasion would have especially in the context of the news of Japanese war crimes and wartime propaganda stewing fears.
I found the day spent on Rottnest very powerful; the insight offered by Mike into the real panic felt by Perth during wartime was news to me; it always felt that our little corner of the world was safe from any real threat. It seemed unreal to me that Rottnest, Perth's favourite holiday destination, held such tension during the Second World War; Mike's words of '... the war was a terrible thing, but now the sun is shining' is sure to stick with all of us.
Tour diary, Day 4: Community built
by Tahlia Stokes, Year 10, Irene McCormack Catholic College
After a quick flight from Albany back to Perth we visited ANZAC Cottage in Mount Hawthorn.
We met Anne Chapple, a descendant of the family who first lived in the cottage. She explained the history of the cottage and how the community came together to build a home for Private Porter and his family, one of the first returned servicemen, and as a memorial for those who lost their lives at Gallipoli. The home was built in a day due to the generosity of local residents contributing resources, time and money.
The Porter family lived in the cottage until the 1960s. Unfortunately, the house fell into disrepair and was in need of renovations. Peter Ramsay from the Vietnam Veterans Association of Australia took on the challenge of renovating the home in the original style. With determination and a team of volunteers the house was rebuilt and now stands as a memorial to all who served. We were all moved by the story of Private Porter, the history of the house and the importance of communities coming together to achieve a purpose.
Peter was also involved in a community project refurbishing 2 nearby bus stops, representing conflicts at Gallipoli and Nui Dat. The bench seats were replaced with sandbags and murals of servicemen have been painted on the shelters. There is also a range of Aussie slang printed on the back of each shelter, it was fun trying to guess what the words meant. Both these projects have encouraged us to think about how we can contribute to the broader community.
Exhausted from our travels, we headed to our hotel, dreaming of our trip to Rottnest Island the next day.
Tour diary, Day 3: Albany
by Matilda Miller, Year 10, Baldivis Secondary College
We began our day with an overcast crisp walk up Mount Clarence to the Desert Mounted Corps Memorial with local historian, Malcolm Traill.
We were told of the history of the memorial and how it was originally erected in Egypt, and the remains of it brought back to Australia due to the Suez Crisis in 1952. There was a debate as to whether it should be erected in Canberra or Albany. The New Zealand government settled the debate saying they would prefer if it was in Albany rather than a foreign capital. We continued our walk and learnt the history of Padre White and the story of him and his friends holding the first remembrance ceremony. They hiked to the top of Mount Clarence and had a small ceremony while another of their friends sailed out into the harbour and released a wreath in honour of all who had fallen; however, this was not recorded officially.
After taking many photos of the stunning views, we headed back into town where we had the privilege of talking to the Minister for Veterans' Affairs and Defence Personnel, the Hon Matt Keogh, who shared stories of his youth and experiences at places we are travelling to during the tour.
We were then given the privilege of attending a Remembrance Day ceremony held in St John's Anglican Church. We laid a wreath on behalf of the French embassy as well as one from the tour group. After the completion of the ceremony, we were given a tour of the church by the Reverend Karen Cave. She shared many stories with us, such as the first church in Albany being built by Sir Thomas Sherratt. He conducted services vigorously preaching the sins of alcoholism on a Sunday but Monday to Saturday ran the pub!
In the afternoon we visited Albany's Historic Whaling Station where we were given an informative tour. We explored the retired whaling ship Cheynes IV where we learnt interesting information regarding whaling that gave us another aspect of Australia's history to consider. To end our day, we went down to The Gap to see the picturesque views and learn about the daring rescue performed by Cheynes II. While we were there, Natalie shared her research of the Albany landscape. I would like to thank all the people we met in Albany for sharing its rich history; we cannot wait to continue our tour and look forward with eager anticipation for what is to come.
A quote that has inspired us for our stay in Albany is 'collect memories, not things'.
Tour diary, Day 2: Cruising through history
by Hayley Bosustow, Year 10, Iona Presentation College
After enjoying a hearty breakfast, we were once again joined by historian Malcolm Traill.
We boarded a boat for a cruise in King George Sound, which was run by Captain Mark. As we cruised, Malcolm and Mark shared details of the history of the local area and we saw some of Albany's best views, including Breaksea Island and Mistaken Island. I found it particularly interesting when we passed 2 quarantine stations, where anyone arriving by ship were required to stay for at least 21 days before proceeding into Albany. I also really enjoyed getting an opportunity to skipper the boat.
We had lunch at the Middleton Beach, locally known as Binalup, meaning the place of first light. Tahlia gave her presentation on pre-war architecture and Harley shared her research on our American Allies. We then proceeded to the nearby Strawberry Hill Farm at Barmup, where we met Judy and Carole, who explained that it was the first European farm in Western Australian, and described everyday life of the Spencer and Bird families, who were early pioneers. Carole took us on a tour of the Bird family's house, where we walked on the same original floorboards which they had walked on everyday 200 years ago. It was also fascinating to learn that the view out of one of the windows of the home was the same view we had seen at the National Anzac Centre the day before.
We strolled through the garden to view the picturesque Barmup flowers and trees, before travelling back to the Dog Rock Motel. Here, we met Ralph Flowers, a Vietnam Veteran who was conscripted to serve in Vietnam. He shared a number of stories including the negative reception he received when he returned from Vietnam, as well as how his future wife wrote to him every day and how he learnt that there are truly no winners of war.
The second day of the tour has been thoroughly enjoyable and we are all excited for what's to come next.
Tour diary, Day 1: New adventure
by Hannah Peterson, Year 10, Bunbury Cathedral Grammar School
The first day of a new adventure is always exciting, and the first day of the Premier's Anzac Student Tour for 2022 did not disappoint. We started the day with an early wake up call to be at Perth Airport by 7 am, and for some of the country kids this meant waking up at 4 am!
We were all excited and ready to get on with the tour, which started with a flight to Albany. We arrived on schedule and headed to the National Anzac Centre. We met Larry Blight, a Menang Elder, who welcomed us to Country and told us the stories behind memorabilia given to World War I Indigenous soldiers to thank them for their service. One of the pieces that I found interesting was a commemorative badge that was given to Aboriginal soldiers once they returned from service. The badge was boomerang shaped, made of brass and engraved with "our boys" which can be interpreted in many ways.
The National Anzac Centre is designed to be a self-guided tour with an audio player to provide commentary. Each guest is given a card with the details of a significant individual. As you walk through the centre, you learn more facts and information about their war experience by scanning the card at various exhibits. I explored Padre Arthur White, a priest, who was a member of the 44th Battalion, AIF. It was interesting for me to learn that it was not just soldiers who went to war but they were also accompanied by people who had different roles to support the war effort.
In the afternoon, Malcolm Traill, an Albany historian, showed us the old coastal defences, explained the purpose of them and shared a humorous story of how one of the guns was fired in error into the harbour, which surely scared the sailors on their ships.
Our last stop for the day was the Brig Amity replica at the Museum of the Great Southern. We met Scott Neil, who gave us a refresher on convict history because the Brig Amity was one of the first ships to bring convicts into Western Australia. We learned that 60 crew members, including 23 convicts, had to eat and sleep on the small ship along with livestock and other essential items required to establish a new colony. We then finished the day with some fun photo opportunities on the brig, with our mascot, Bill!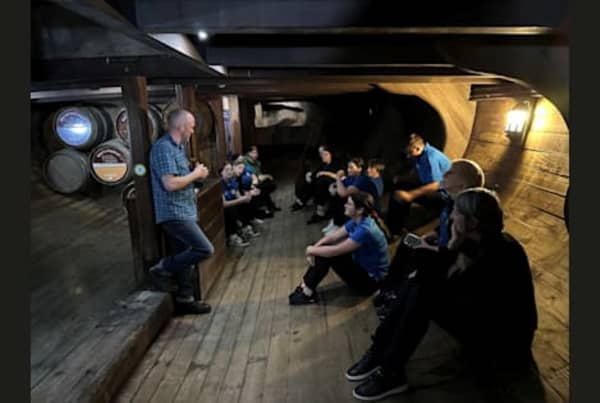 Student ambassadors
| Name | Year | School |
| --- | --- | --- |
| Hannah Peterson | Year 9 | Bunbury Cathedral Grammar School |
| Matilda Miller | Year 9 | Dalyellup College |
| Hayley Bosustow | Year 9 | Iona Presentation College |
| Tahlia Stokes | Year 9 | Irene McCormack Catholic College |
| Jack Holzer | Year 10 | Margaret River Senior High School |
| Natalie Bradford | Year 9 | Western Australian College of Agriculture Narrogin |
| Harley Heywood | Year 9 | Narrogin Senior High School |
| Ewan Smith | Year 10 | Safety Bay Senior High School |
| Katherine Mullaney | Year 10 | St George's Anglican Grammar School |
| Lilia Dorfman | Year 10 | St Mary's Anglican Girls' School |
Teacher supervisors
| Name | Organisation |
| --- | --- |
| Ms Caroline Crofton | Applecross Senior High School |
| Mr Dillon Webb | Leeming Senior High School |
| Ms Karen Lamond | Department of Education |
Students were required to prepare an extended written response of no more than 1000 words on the following topic:
What would it have been like to grow up in a family affected by war?
Student applications closed 5.00pm, Friday 13 August 2021.
Schools conducted their own selection processed and could nominate up to three students in each of the two categories of Years 8/9 and Year 10/11.
Students entering needed to display:
a genuine interest in the Anzac experience
an appreciation of the study of history
excellent interpersonal skills and self-confidence
a willingness to share their tour experiences (if selected) in their school and local community.
To be eligible, all entrants required a nominating teacher and endorsement by the principal to confirm their suitability to represent their school, community and the State as a youth ambassador on the 2022 Premier's Anzac Student Tour.