Family, language and culture
Basil Kickett, Narrogin Primary School
WA Aboriginal and Islander Education Officer of the Year
The classroom is the place where Pop Basil Kickett is happiest.
It is there that the Narrogin Noongar Elder starts to build rapport with students and their families from the earliest days of their schooling, by working in the KindiLink, Kindergarten and Pre-Primary classes each week.
The relationships he forms at Narrogin Primary School while assisting with literacy and numeracy ensures that if those students face significant challenges in the future, there is always a supportive and familiar face for them.
"I want them to feel safe and like they belong in the school," he says.
"I want to be a part of having Indigenous perspectives embedded into every classroom and that Indigenous children see themselves represented and culture recognised."
Described as a kind, calm and humble "gentle giant", Pop Basil's presence and invaluable contribution to Narrogin Primary School over the past 17 years has built an inclusive curriculum across all learning areas, using his knowledge of Noongar culture and language and the history of his own family.
This includes the production of the children's book "When Pop was a Boy", with student illustrations, and a Noongar language YouTube video "Echidna Finds a Friend" that has been shared by the Indigenous Literacy Foundation.
These stemmed from Pop Basil regularly playing the role of "Grandfather" during classroom history activities, with students marvelling at his amazing experiences growing up in Narrogin including the horse and cart he had used for transport.
"We made the stories about my life into a book and people are wanting to read it and learn what it was like for some of us growing up Noongar in the Wheatbelt," he says.
"Through the book, I want the kids to remember that I care about them and hope they will always feel that I will be there to help and support them always."
Born and educated in Narrogin, Pop Basil worked on the railways, pursued an opportunity to play with West Perth Football Club and worked for QANTAS for 23 years before stepping in and taking on the role as WA Aboriginal and Islander Education Officer.
At Narrogin Primary School, he participates in all planning sessions including meetings, staff planning workshops and school development days. He has contributed to three cycles of business plan development over nine years and he has been a key driver of school improvement by championing the implementation of the Aboriginal Cultural Standards Framework.
His support of local students has also taken him far beyond the classroom.
He "hits the street" at kindergarten enrolment time each year, working with the school administration team to ensure all young Aboriginal children are correctly enrolled for the following year, to avoid any missed days at school.
"They inspire me - seeing them go from kindy and all through school, watching them learn and grow," he says. "The happiness on kids' faces when they shout out at the top of their voices in the middle of the supermarket, 'Hi Pop Basil'."
This title is high recognition of the role Pop Basil plays in the community as a Noongar Elder, and the way he has melded his cultural responsibilities with many years of work at the school as a mentor, advisor and friend to all.
At other times, Pop Basil can also be found calmly and quietly kicking the footy or throwing a boomerang with students dealing with feelings of stress.
Understanding the multi-generational trauma that can impact on students, he works collaboratively with teachers to identify risk factors for escalation and then works one-on-one with the students to ensure de-escalation at the most challenging times.
He also attends all school and interschool sporting events, taking on several roles including coach, behaviour support and ribbon presentation.
As a badged attendance officer, he supports students and families in need, often arranging transport, lunches and other necessities. He conducts home visits to ensure that incursion/excursion forms, medical forms and all other paperwork is completed, so that no Aboriginal student misses an opportunity to participate.
He also coordinates all of the Derbarl Yerrigan health appointments to conduct hearing screening for Aboriginal students.
"I support them not just academically but more importantly building their confidence, self-esteem and self-worth," he says.
"I want them to be proud of themselves.
"To grow up into proud people, respecting themselves, family and others. Working to be the best they can, at whatever that may be in life.
"I'm getting on in years now and I would also like to inspire and mentor other young people to become an AIEO."
---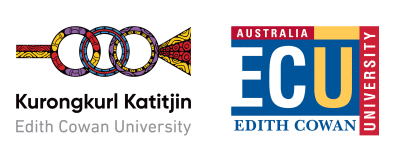 Aboriginal and Islander Education Officers support school staff to develop culturally inclusive teaching and learning programs, and build relationships with Aboriginal communities that allow culture and languages to be shared.
This award is proudly sponsored by Kurongkurl Katitjin at Edith Cowan University.
Winner
Basil Kickett, Narrogin Primary School
Finalists
Michael Merrison, Dawul Remote Community School
Tamara Slamar, Banksia Grove Primary School
William Dick, Northam Senior High School