Cadets help out local volunteer firefighters
24 February 2022
Public school life
In the news
The Denmark Senior High School Emergency Services Cadets have made local volunteer firefighters' jobs a little bit easier by keeping their vehicles shipshape.
The cadets cleaned four bushfire emergency vehicles, two of which had just returned from a run out to the fires and were covered in retardant.
This helpful gesture by the students meant the volunteers had one less task to complete before returning home to their families.
During the recent fire, some of the senior cadets also stayed at the fire station cleaning and restocking the fire trucks when they came back in to refuel, get more water, or change out crews.
The cadets made sure that the firefighters had enough food, drink and rest. Some of the cadets are also in the SES and provided similar services.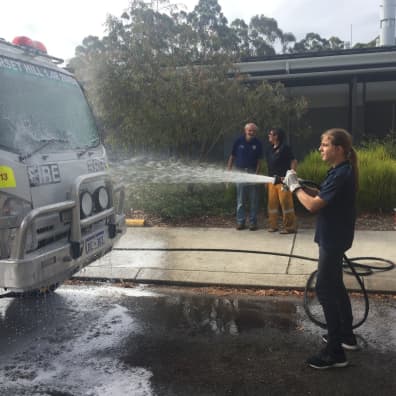 The students were proud to be able to help out and thank the selfless people in their community who volunteer every day.
Volunteering and helping others gives the students a sense of belonging, an opportunity to make new friends, and connect with their communities.
Denmark Senior High School Emergency Services Cadets unit coordinator Robert Jones said it was gratifying to see the cadets help the firefighters.
"Denmark is a very supportive community, and seeing the cadets become involved in the community makes us leaders proud," he said.
"We are extremely proud of how they approach their tasks, responsibilities, and the way they present themselves in the community.
"It's incredible to watch them develop as students and community leaders."
One of the Year 12 cadets said joining the volunteer firefighters provided a sense of purpose and greater self-esteem, and also benefited the community.
"It provides a challenge and a way to learn new skills, particularly in communication which can be utilised in other aspects of the community," they said.
"Helping someone else gives me a sense of perspective, as well as a feeling of connection to those in my community.
"It allows me to feel part of society and it is also a privilege to be entrusted to help others who have done so much to help people like myself."