The beauty of Country and family
An Aboriginal educator has written a bilingual picture book in Noongar and English to celebrate the beauty of Country and family.
Gilmore College Aboriginal and Torres Strait Islander Education Program Coordinator Isobel Bevis wrote Nedingar: Ancestors which tells the story of a young child who wants to meet their Ancestors to know them, learn from them, and follow their ways.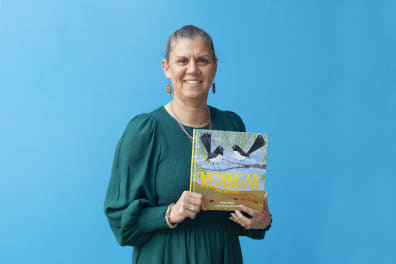 Published by Fremantle Press, Nedingar: Ancestors also features hand painted images of Australian flora and fauna by Leanne Zilm.
Ms Bevis is a proud Wilman, Noongar and Ballardong woman who grew up in a large Noongar family, living on Wilman Boodja.
She is a teacher with a Master of Indigenous Languages Education and is passionate about supporting Aboriginal students and families.
Ms Bevis said she started writing to stay connected to family and culture, with her strength and knowledge coming from the matriarchs in her family.
"It was not my intention to write a book, I just started writing during the COVID-19 pandemic as a way of staying connected to family and Country while we were all in lockdown. I know that my Nedingar (Ancestors) were guiding me, they led me to here," she said.
"As a new author, I never ever thought or considered that I would one day have a book published. It is a privilege to be able to write a book.
"What I have been able to achieve is in honour of family and the storytellers who have gone before me."
Ms Bevis said the book could be used as a classroom resource to educate students and staff about culture, Country and language.
"I hope it develops an understanding that Aboriginal people have a spiritual connection to Country and why we are carers and protectors of Country, because our Nedingar (Ancestors) are within and part of Country," she said.
"The relationship is reciprocal. Country will look after us if we look after Country. Our Ancestors are always with us.
"Everyone has an opportunity to see the beauty and wonder of Country, take the time to appreciate what is around us."