Prestigious award for excellent service
The Department of Education Western Australia has been recognised in a prestigious award celebrating excellence in public service.
The Aboriginal Languages Teacher Training Program and Woodlupine Primary School were recognised in the 2021 Institute of Public Administration Australia WA achievement awards.
The Aboriginal Languages Teacher Training Program took out the Best Practice in Corporate Social Values award, recognising the efforts of Coleen Sherratt, Lola Jones and Lois Spehn-Jackson who developed and championed a program for teaching local Aboriginal languages to children in schools across WA.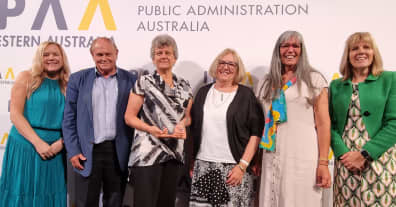 The program is recognised nationally and internationally as a model of best practice, and was developed in response to increased community interest to see local language, culture and history passed on to children.
The team regularly visits communities to foster relationships between the Aboriginal community and the school, and enables program participants to feel safe to share their history, culture and language.
Senior Consultant Lola Jones said it was an honour to receive the award in recognition of over two decades of work dedicated to the revitalisation and teaching of Aboriginal languages.
"It has been a team effort and it would not have been possible without partnerships with Elders and language speakers across the state, and the support from colleagues and our families," she said.
"Since 1998 the course has provided a career pathway into teaching for Aboriginal staff, supporting community initiatives in language revitalisation.
"It enables students, staff and the broader community to build respect for Aboriginal histories, cultures, people, knowledge and experiences.
"It provides the opportunity for Aboriginal languages to be spoken, taught and celebrated."
The Department's other award recipient, Woodlupine Primary School, won the Award for Best Practice in Health and Wellbeing for its Crew Health and Wellbeing Program.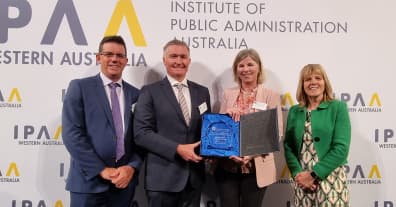 CREW is a whole-school approach to student health and wellbeing that aims to increase resilience in children and help them overcome setbacks.
Woodlupine Primary School Principal Trevor Phoebe said it was important to address behavioural challenges in a proactive way.
"Our staff, students and parent community are proud of the school we have become and the way in which our students conduct themselves both at school and when they are out on excursions," Mr Phoebe said.
"It's great for our school to be recognised for the work we have done to support our students to become collaborative, co-operative and caring young Australians.
"Given that this award is open to all sectors of the public service, we were tremendously proud to be recognised for our work."