Perth art teacher Archibald Prize finalist
01 May 2023
Reward and recognition
Public school life
An award-winning artist and long-serving art teacher dedicated to sharing her creative talents to re-engage students has been named a finalist for a prestigious art prize.
Jill Ansell, North Lake Senior Campus Fremantle Fast Track art teacher, is a first time Archibald Prize finalist with her self-portrait 'Looking east'.
Ms Ansell's artwork emerged from an old sketch of herself squinting in the desert sun, and a conversation with other West Australian artists that highlighted how few participate in the Archibald Prize.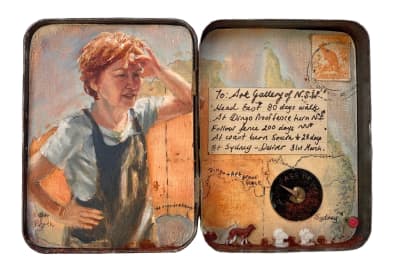 "I wanted my portrait to explore being remote and unseen; to appear like an old postcard that has taken multiple wrong turns over a century before finally arriving," she said.
"It includes small items such as broken watch parts, an old stamp and sand. For the address label, I calculated how long it would take me to walk to the Art Gallery of New South Wales if I was fitter and took Sundays off to treat blisters.
"Given that the work explores the difficulty of making it into the Archibald, the irony of its acceptance is not lost on me."
Ms Ansell has been the art teacher at Fremantle Fast Track, an annex of North Lake Senior Campus, since the mid-2000s. She has been teaching with the Department of Education since 1984.
Fremantle Fast Track, a Senior School Engagement Program, has specialist courses and teachers to make students' return to learning empowering and engaging.
It provides flexible and supportive learning environments to allow students, who may have been disengaged from mainstream education, to flourish and reconnect.
Ms Ansell works on her art on her days off teaching and said she has both a very enjoyable teaching career and a successful art career.
Ms Ansell said her students have been a delight to work with over the past two decades. She hopes being a finalist inspires her students and helps them recognise their importance in the world.
"Being a finalist in the Archibald Prize is the sort of thing artists dream of and I am absolutely thrilled to be included. I hope my students will be delighted with this and be inspired to keep creating and being original for the whole of their lives," she said.