Exploring culture through art
29 May 2023
Events and initiatives
Public school life
A renowned Indigenous artist inspired Leeming students to explore culture through a stunning collaborative artwork.
Respected local artist Justin Martin recently embarked on a captivating art project with a group of students from Leeming Senior High School, providing them with a unique opportunity to learn about and incorporate Aboriginal art.
The project, which involved creating a mural that represented local Indigenous flora and fauna, sparked creativity and fostered a deeper connection with their roots.
"Traditional art is something that's done in large communities," Mr Martin said.
"So when I do collaborative artworks such as this one, it's done in the right fashion so that everybody's taking part and enjoying the practice."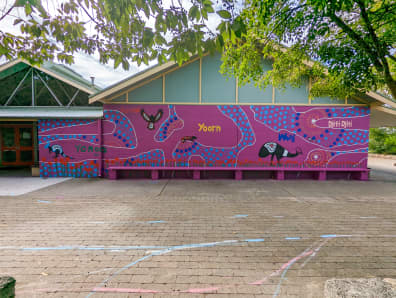 Mr Martin, known for his exceptional ability to weave traditional elements into his artwork, shared his journey and experiences with the students, emphasising the importance of art as a means of communication and expression within Aboriginal culture.
By incorporating traditional storytelling techniques, his artwork conveyed the rich history and significance of the animals and plant species found in the area.
Justin's advice to the aspiring artists resonated with the students, encouraging them to persevere and follow their passion for art.
"My advice for anybody who wants to take up art as a professional career is to just keep at it. Don't give in."