"There are certainly more promotional opportunities in rural or remote areas (my career path is proof of that)."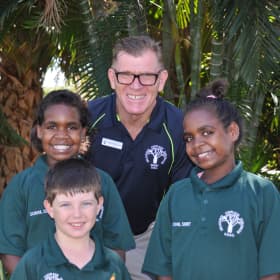 I'm the Principal at Derby District High School and lead the school with close to 700 outstanding students ranging from Kindy to Year 12, with over 100 thoroughly professional and dedicated staff.
I like to start early so I can take care of administration tasks before students and staff arrive. I try to be at one of the gates to welcome children with a handshake/high five and set them up for success with language like "make the most of your learning opportunities", "respect yourself", "be kind to your classmates" and "respect your teachers".
My day is made up of meetings, planning, and representation on various school agency and community committees. I also attempt to get into classrooms as much as possible, not to observe but to take part in the lessons. At recess and lunchtime I like to go on duty and interact with the students. I get to the bus gates at the end of the day with the admin team and we farewell our kids. If they've had a good day we congratulate them and if they haven't we let them know that "tomorrow is a new day".
Derby is an ever changing and complex school. Over 80% of our students are Aboriginal and are drawn from Derby town and the Mowanjum and Pandanus Aboriginal communities. Our non-Aboriginal students are made up of local kids and the children of people who have moved to Derby for work. A number of non-Government agencies support our students in the school including primary and secondary Clontarf, Shooting Stars, Girl's Academy, Follow The Dream and two basketball academies.
I grew up in Perth and Carlisle Primary was my first school. I left school in Year 10 and worked as a gardener and a police cadet and then travelled to England where I served 5 years in Coldstream Guards in the British Army. On returning to Australia I went to 'night school' to enter what is now Edith Cowan University and I studied to become a primary Physical Education teacher. I met my beautiful wife Carolyn at university and on graduating we moved to Kalumburu, then onto South Hedland, the Goldfields, Perth metro and then 11 years ago went back to the Kimberley. Since coming back to the north I've been Principal of La Grange Remote Community School, Wyndham District High School, Broome Primary School and now Derby.
I've been a Principal for the last 11 years and arrived in Derby in October 2016. When we arrived in Bidyadanga (La Grange RCS) I couldn't be called Mr Mark or Mr Williams by the students due to people with the same name passing away (Napiru). Some of the old ladies gathered to give me a 'bush' name and asked what I'd being doing since I arrived. I told them and mentioned that I'd nearly been hit by lightning 3 times. They chuckled, had a quick chat and announced that I was to be called 'Jirtama' which means storm or lightning. It's a very cool name and when I go back to Bidyadanga or see locals they still call me Mr Jirtama.
Rural and particularly remote schools can be extremely challenging in relation to attendance, transiency, progress and achievement levels, behaviour and cultural differences. Be prepared for this but that said it should also be the absolute experience of a lifetime. The best thing about working in our remote and rural schools is that often the school is the hub of the community; you are an integral part of what goes on. If you stay a few years you get to see whole families go through the school and that sense of belonging and being part of something special is magnified.
All teachers have to be of the highest calibre. Our kids often start school with enough impediments to success already so they deserve the very best standard of teaching. You have to be highly skilled, collaborative, intuitive, flexible, accepting, adaptable, tolerant, and utterly professional and open to new experiences both in and out of school.
There are certainly more promotional opportunities in rural or remote areas (my career path is proof of that).
My advice to anyone considering teaching rural or remote is go for it! It's the best thing my wife and I have done in our teaching careers. We've taught, lived and travelled to so many places that are rich in culture, scenically beautiful and inhabited by special people of all cultures.
We live here in Derby (2350kms north of Perth) and it has plenty of facilities like supermarkets, hotels, a golf course, turf club, rodeo grounds, a sports complex and a swimming pool and it's only 4 kilometres from the famous Gibb River Road and all the attractions of the Kimberley region.
I get to work in the best school in the Kimberley each and every day and I work with my wife. This is not unique in the Kimberley and there a number of teaching couples in our region.
The thing I love most about my job is seeing the faces of our students as they come in each morning ready for learning and knowing that I'm charged with the responsibility for ensuring they make the most of their learning opportunities – I take this responsibility very seriously.
I really enjoy interacting with the kids. Hearing a student read for the first time or write their name, receiving a Merit Certificate, giving you a handshake after they get to know you, asking if you're coming back next year and calling you Mr Jirtama 8 years after you left the community.
My three pieces of advice to anyone considering a rural or remote teaching position are:
Strive to always produce your best regardless of your role – adopt the mantra of 'continuous improvement'
Get involved in your community – be 'high visibility'
Don't accept mediocrity – 'the standard you walk past is the standard you accept'.
Learn more about our winners
Learn more about our winners