"Staying in school set me up for a good life."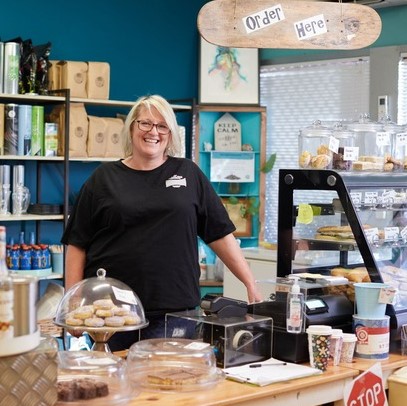 At 15 years of age Sonia Powell had an important decision to make – leave school and move to Meekatharra with her parents or stay in Albany with her aunty and finish her schooling.
Although she knew she'd miss her parents, she decided to stay. She enjoyed going to school and knew doing Year 11 and 12 would give her more options for future study and work.
After school she reunited with her family in Meekatharra. Keen to travel, Sonia did a diploma course to become a nanny so she could live and work overseas. She changed her plans after she landed a job on a mine site and met her husband.
For the past 18 years Sonia has lived in Tom Price and been an active member of the community.
"I love my community. I have a great life here with my family and friends."
Sonia has a rewarding job working at Nintirri Centre (a not-for-profit) where she manages their café and the Karijini Experience event.
"The Karijini Experience is a five-day celebration of culture, food, music and art on country – and it is set in the Karijini National Park. Coordinating it is full-on, but it's fantastic when it all comes together.
"At the café I get to interact with the community and help young trainees learn hospitality skills."
Sonia is also chair of the Tom Price Senior High School board. In this role she provides advice as a community leader and supports initiatives that promote opportunities for young people.
"I think it is important we support young people to get a good start in life.
"Staying in school gave me a good start. I want our local kids to have the same opportunity."