Young conservationist's im-peck-able success
20 July 2023
In the news
Public school life
The population of an endangered cockatoo species endemic to Western Australia is growing thanks to a project spearheaded by a young conservationist at Shenton College.
Shenton College student Eva Czislowski has spent many of her secondary school years pioneering a project to build 40 artificial nests to help boost the population of the endangered Carnaby's Black Cockatoo.
The project involved Eva rallying students and staff at Shenton College and working closely with community groups such as Carnaby's Crusaders to build artificial hollows where the birds can breed.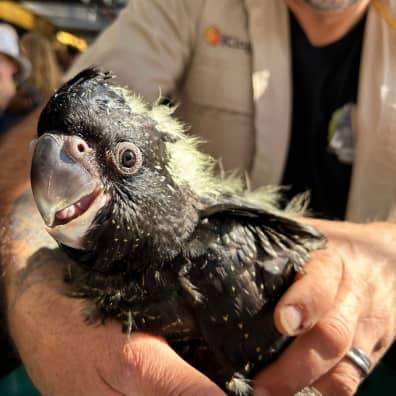 Since the hollows were installed two years ago, nine new Carnaby's Black Cockatoos have been born.
Eva was told by an expert who installed the nests that it was very successful to have nine extra birds introduced to the endangered population.
Speaking to ABC Perth, Eva said it was fantastic to hear this news.
"It's going so well. It was great to hear. The hollows we built are meant to last two lifetimes. The most exciting thing is that we might see our female fledglings return to their birth sites… and then produce another generation of Carnaby's," she said.
Eva began the project after hearing about the challenges the species faced, including habitat destruction and being sold on the black market.
She said the hollows the birds breed in take over a century to form in the natural environment.
"I really wanted to do a conservation project. I developed a passion for birds and when I found out how endangered our special Carnaby is I wanted to do something about it," she said.
"I found out that they can be sold for 50 grand on the overseas black market, and that's just horrible.
"Then I heard stories about poachers stealing them from their nests, so if you can build a really cool hollow that's artificial (it may) help save them."
Shenton College also held a tree planting day in June where 400 native Western Australian trees and plants were planted on the Shenton College campus to expand the ecosystem for black cockatoos.
The initiative also helped rehabilitate deforested areas and provide shade in open areas of the school, while also creating an opportunity for student and local community collaboration.