World Cup inspires students
25 May 2023
Events and initiatives
In the news
Excitement is building ahead of the FIFA Women's World Cup, with WA students set to benefit from the spectacular global event on home soil.
Featuring WA superstar and Matildas captain Sam Kerr, the Women's World Cup kicks off on 20 July.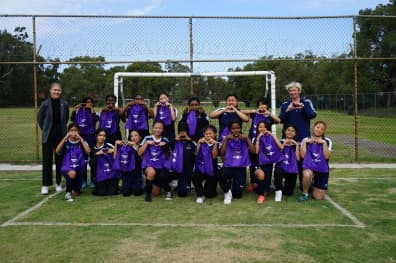 There will be 5 matches staged in Perth as part of the tournament and our students are being given the chance to participate in a range of planned activities and events.
Balga Senior High School and Safety Bay Senior High School, schools with strong female soccer programs, will host one-off events under the theme, dream it… believe it… achieve it.
Girls and young women from local schools will hear a presentation from a renowned sportswoman and participate in leadership activities and skill development workshops.
Perth Glory captain Tash Rigby was on hand to help kickstart our World Cup celebrations this week, rubbing shoulders with students from the Balga Senior High School soccer program.
"It's awesome to be here with these amazing young women, who are also young aspiring footballers," Ms Rigby said.
"It's going to be really exciting to see how they are inspired by this World Cup and where it takes us in the future."
Balga Health and Physical Education Teacher Sarah Bagshaw said having the World Cup in Perth was a huge boost for the students.
"They are passionate about the game and they just absolutely love it," Ms Bagshaw said. "There is nothing that gives them more happiness and a sense of belonging and pride than playing for their school team. To see these amazing athletes on the world stage, in their own backyard, playing at the highest level, it basically sends the message to the girls that if you work hard enough, you can achieve that too."
Primary schools can also adopt one of nine nations set to play in Perth during the tournament, while World Cup curriculum resources are being created for schools in partnership with Football West.
Primary school students are also encouraged to enter Summit Sport's Design your own football competition. Find more information and download the entry form on the
Summit Sport website
.
The FIFA Women's World Cup is being held in Australia and New Zealand from 20 July to 20 August. For more information, visit the
FIFA Women's World Cup website
.