Voyager takes students on journey towards stardom
18 September 2023
In the news
Public school life
Specialist music students at Kelmscott Senior High School have jammed out at a lunchtime gig with international music stars Voyager.
The Perth band represented Australia at the 2023 Eurovision Song Contest in the United Kingdom and placed ninth in the event's grand final.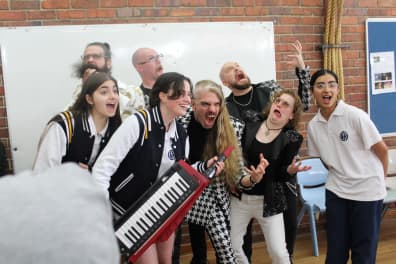 Voyager visited the school and shared their expertise with the up-and-coming musicians during an interactive workshop where students had the chance to perform for Voyager and learn from the international stars.
Kelmscott Senior High School has a specialist music program which is renowned as one of the top music programs in Western Australia.
The school has a long tradition of excellence in instrumental and choral performance and gives students opportunities and pathways to further music studies and success.
Members of the band spoke about their experiences, the journey to Eurovision, life on the road, the importance of a classical music grounding, where they gain inspiration, and the challenges of having two careers.
"That's the main message we wanted to get across to you all today. Success and fame don't often happen overnight. It's more about persistence. Practise makes progress," bass player Alex Canion said.
"I love days like these – we don't often get to play underage gigs, so the chance to come here and connect with young people like this is awesome," Canion told The Examiner.
"If our words can make an impression on just one Perth kid, then this has all been worth it."