It's not every day you get to meet an Olympian, but the students at Ashburton Drive Primary School were lucky enough to do just that as part of a program inspiring students to reach for gold.
The school was the first in WA to participate in the Olympics Unleashed program designed to help students overcome challenges, set goals, and build self-confidence.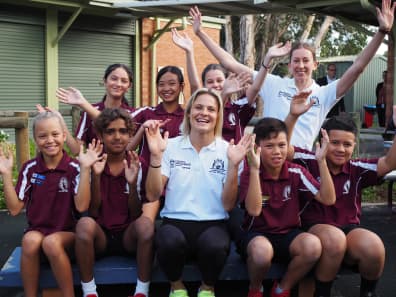 Students heard the inspiring stories of some of the nation's top athletes including four time Olympic basketballer Andrew Vlahov, Australian pole vault record holder and Tokyo team member Nina Kennedy, and Rio Olympic basketballer Natalie Burton.
The athletes drew on lessons learnt during their Olympic journey to help motivate students to achieve their best in school, at home, on the sporting filed, or with friends.
The program will be rolled out in schools across the state from the Kimberley to the Great Southern, inspiring students both in the city and in the regions.
Ashburton Drive Primary School principal Heather Fallo said the students had the most amazing day experiencing the launch of Olympics Unleashed.
"The visitors, students and staff not only learnt about resilience and challenges, but felt the emotions of success and effort," she said.
Rio Olympian and basketballer Natalie Burton said it was important to always go out and try your hardest.
Natalie's presentation captivated the students and taught them about goal setting, resilience, and team work.
"It's about sharing what I learnt to help young people understand that all you need to do is follow your dreams and pursue your best," she said.