Student chefs get cooking
Aboriginal students from across the state donned chef hats and tasted what it's like to work in a professional kitchen as part of an innovative program.
The Djinda Ngardak Culinary Experience, run by Prepare Produce Provide in association with the 2023 World Indigenous Tourism Summit, provides an opportunity for Aboriginal students and teachers to work with industry professionals, and create dishes using local produce and traditional ingredients.
The workshops, held at Crown Perth, included a chocolate masterclass, non-alcoholic beverages masterclass and cultural culinary sculptures, culminating in a gala dinner.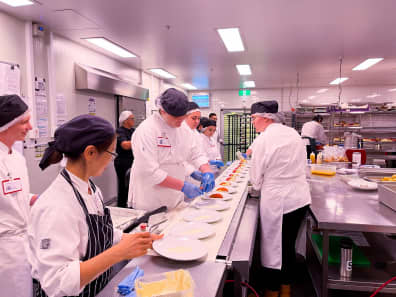 Joanne Bell, Aboriginal and Islander Education Officer at Halls Head College said it was a unique cultural opportunity for students and exposes them to hospitality and other industries.
"Everyday they do a workshop which leads to the gala dinner. So, they do farm to fork basically," Ms Bell said.
The workshops and masterclasses allow students to further develop the skills learnt from their Certificate I and II in Hospitality and Cookery.
Djinda Ngardak Culinary Experience program coordinator Catherine MacDougall said the program aims to support and empower students.
The program gives students hands-on hospitality experience, while also promoting strong cultural values and identity.
"The biggest thing that we want as educators, trainers, the chefs involved, everyone, is for our young people to be inspired," Ms MacDougall said.
"We want them to be proud of who they are. We want them to understand that there's a place for culture in this career pathway."
Want to watch some great learning-in-action? Check out the video on
our Facebook
.