Star-studded cheer squad supports challenge
08 May 2023
Events and initiatives
In the news
The 2023 Premier's Reading Challenge is being boosted by a huge injection of star power.
The new challenge kicked off on Monday 8 May and runs until 8 September.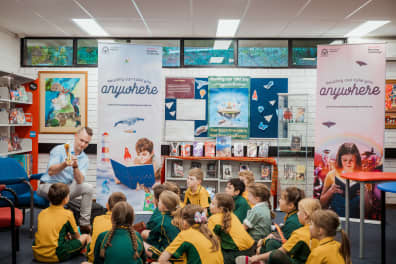 The 2023 edition has a focus on WA authors and their stories. It features the addition of a challenge cheer squad made up of some of the state's most beloved writers.
The illustrious group will provide support to students from Kindergarten to Year 10, who are taking up the challenge to read 12 or more books over the four months.
The 16-strong group will encourage participants by hosting workshops in classrooms, narrating their titles for a virtual storytelling series and appearing as guests on the challenge podcast,
Between our pages
.
Cheer squad member, Sean E Avery, who is also a teacher, was on hand for the 2023 challenge launch at Rockingham Senior High School. He led story time with local primary school students.
The cheer squad boasts writers and illustrators, including James Foley, whose bestseller
Stellarphant
won the 2022 Children's Choice award by the Children's Book Council of Australia.
"It's really great for kids to meet authors and illustrators because then they can go 'oh books just don't come from bookshops and libraries, they come from real people'," Mr Foley told
Between our pages
. "'People actually sit down and do this as a job and maybe I can do that one day as a job too."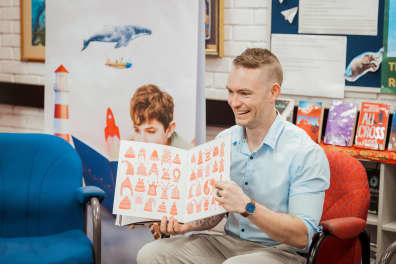 Award-winning writers Craig Silvey and Dianne Wolfer are also members of the impressive squad.
"It's so important for everybody, every child or every human, everybody needs to be given the opportunity to read," Ms Wolfer told
Between our pages
. "If you can't read there are so many parts of society you're excluded from, let alone as far as a practical sense. But as far as further learning and discovering who you really want to be and extending yourself, reading, whether we like it or not, is an essential tool."
Each week of the challenge, all students who log a book are eligible for fantastic prizes.
Students can log reading in a range of formats, including graphic novels, blogs, newspaper articles, or song lyrics.
Find out more about the challenge and the cheer squad on the
Premier's Reading Challenge website
.