Robots are well known for speeding up manufacturing processes, but the tables were turned when WA secondary students built robots in just three days.
The robots were constructed as part of the Robots in Three Days workshop and was led by mentors from Curtin Engineering.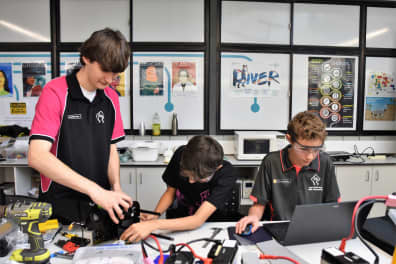 The workshop, held at Southern River College, tasked students to develop their STEM skills and create a playable robot ready to compete in the West Australian Robotics Playoffs.
Twenty-one students from Southern River College, Thornlie Senior High School, Bunbury Senior High School and Swan View Senior High School took part, as well as the Curtin University First Robotics Competition team.
Southern River College robotics teacher John Townley coordinated the building workshop and said he was pleased to see the students learn valuable skills, knowledge and experience from the workshop.
"Engagement was very high from all participants who all learned a great deal," he said.
"The students gained mechanical, electrical and software engineering skills as well as STEM skills including critical thinking, communication, collaboration and creativity."
The workshop was partly funded by the Department of Primary Industries and Regional Development, which also supports the WA Robotics Playoffs, the state's newest robot competition.
It's based on the FIRST Robotics Competition held across the world every year, and open to secondary school students in WA.