Premier League king spurs on Lynwood goals
13 July 2023
In the news
Public school life
An English Premier League legend shared his skills with some emerging Lynwood Senior High School soccer stars when he visited the school.
Ledley King was a star defender for EPL giants Tottenham Hotspurs for 13 years and was in Perth to promote Spurs' clash with West Ham United at Optus Stadium this month.

King popped into Lynwood Senior High School to meet the Year 9 Soccer Academy students, where he ran some drills and gave them the tips and tricks of the trade.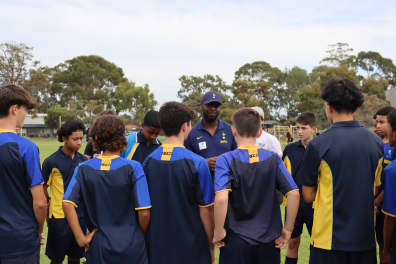 Before getting onto their defence drills, Mr King spoke with the students about his career, their ambitions and advice on how to get there.

"I always talk about the best players and they're the best because they are constantly improving, constantly working hard to keep improving their game, so at a young age that's something you definitely have to do," Mr King said.

Mr King watched the team run drills while providing feedback. He spent time with the students afterwards, taking photos and signing autographs.

Year 9 student Ahmet Atak participated in a defending drill led by King and relished the opportunity to soak up as much advice as he could.

"It's interesting," Ahmet said.

"You wouldn't really expect it, (for him) to come to Perth and stuff, but it's a good experience and you can learn off him.

"He's just been telling us about his football life and what to do to get there. My goal is to become a professional (soccer player)."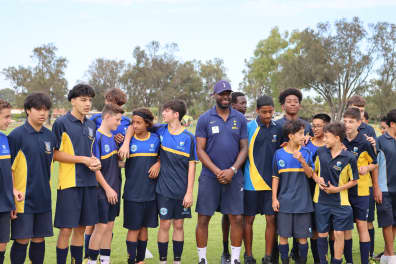 Afterwards, Mr King sat with Lynwood Soccer Academy Coach Tony Campbell, who hosted a question and answer session for students to learn about his career, coaching, and tips he had for the aspiring soccer stars.

"I didn't know what to expect, but I didn't expect that level of involvement," Mr Campbell said. "It's just unbelievable, it's a great experience.

"When you see someone on that level coming down to our level and engaging so well, if that doesn't motivate you to keep playing, I don't know what would."