27 June 2023
Events and initiatives
Public school life
A brass ensemble, a wind orchestra and moving vocal performances were among the standout moments at the annual Opus concert where guests enjoyed the incredible power of music and song.
Opus, the Instrumental Music School Services (IMSS) showcase concert held at the Perth Concern Hall, features outstanding instrumental and choral music from WA public school music specialist students.
There were performances by many students including the Perth Modern Senior Guitar Ensemble, Opus Brass Band and Brasshoppers, Shenton College Senior String Orchestra, Ocean Reef Senior High School Contemporary Ensemble, Fremantle College Training Orchestra, Great Southern Diddly Fiddles, and John Curtin College of the Arts and Bob Hawke College Combined Wind Orchestra.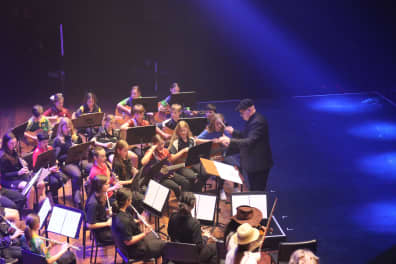 There were also video performances by the Broome IMSS Senior Brass Band, East Kimberley College Concert Band, Bunbury Senior High School Jazz Band, and Australind Senior High School Senior Concert Band.
Instrumental Music School Services graduate Dr Paul De Cinque was the special guest artist of the evening.
Dr De Cinque discovered his passion for trumpet as a Year 6 student at West Balcatta Primary School and continued to pursue his musical journey at Churchlands Senior High School.
He is now the Deputy Head of School (Engagement) at the University of Western Australia Conservatorium of Music. He is also the Chair of Brass and Music Education where he teaches courses in these areas and conducts the UWA Wind Orchestra.
"We are so lucky to have IMSS. Generations of talented WA musicians have come through our public school system," he said.
"As a lecturer at UWA, I see students from the full range of schools from all around our state. It is a privilege to help educate our UWA music students so they can go out and inspire the next generation of IMSS students."
Instrumental Music School Services principal Kevin Fraser said students learnt valuable skills through performance.
"We pride ourselves on presenting our curriculum and our pedagogy to students through ensemble playing as well as through their solo lessons. So they are actually learning while they're in ensemble," he said.
"And a lot of the learning that goes on in the ensemble is in the rehearsal and the preparation. So the range of skills that they gain in taking it to that next level to get onto the concert hall stage is really highly valuable."