Free market to tackle textile waste
04 July 2022
Public school life
In the news
Manea Senior College students are tackling textile waste by hosting a free market where their peers swap clothing and accessories.
The free market came about in 2021 as part of a school subject encouraging students to find local solutions to global issues. It was spearheaded by students Kriztel Compas and Lucy Turner who focused on addressing the United Nations Sustainable Development Goal No. 12 – Responsible Consumption and Production.
The project carried on this year to ensure it continues to make a difference, with students Sara Manuel and Keira Dronow taking the reins.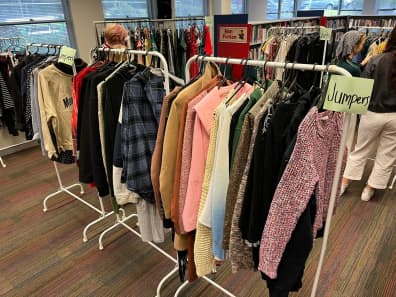 The students' aim is to decrease the amount of textile waste in the community and encourage the reusing and repurposing of clothes.
The Manea College free market will create awareness to help change perspectives on product consumption, limit landfill, and prevent local op shops from becoming inundated with clothing donations that may not sell.
Manea Senior College teacher Michele Watson said the project was part of the school's United Nations Innovation Class.
"We ensure that we carry on projects that are making a difference to the United Nations Sustainable Development Goals. Thus, the projects have longevity and are not a one off if we can help it," she said.
Speaking to the Bunbury Herald, Sara said it was important for young people to understand the impacts of fast fashion.
"There is more textile waste in landfill, especially with our generation because online shopping and fast fashion are becoming more prominent," she said.
"What we are trying to promote is how we can trade with each other instead of putting things in op shops."
The students plan to expand the free market into the wider community and collaborate with other organisations.