Case closed on Cluedunnit Kids 2023
Move over, Nancy Drew, there are some brilliant young detectives in our midst.
Harrisdale Primary School's 'Blood Moon Agents' have been crowned the winners of the 2023 Law Society of Western Australia's Cluedunnit Kids competition.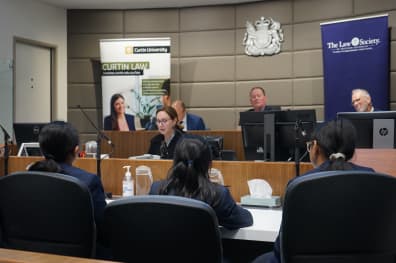 The split Year 5/6 academic extension team was able to solve a fictional crime by using a brief of evidence and asking questions.
The students collated their findings in a creative submission before being judged the winners.
The judging panel was made up of some of the state's most respected legal minds, including WA Chief Magistrate Steven Heath and Children's Court President Hylton Quail.
The competition is directly linked to the civics and citizenship WA curriculum and provides an opportunity for students to apply the core humanities and social sciences skills, including critical and analytical thinking.
Last month at Perth Children's Court, 'Blood Moon Agents' Ain, Adithi, Elizabeth, Farzeen, Lara and Sofia were presented medals, a plaque for the school, and a $300 book prize.
Lara said the competition helps with collaboration and building friendships, as well as the academic benefits.
"I would recommend it because it actually would boost you up in your civics and citizenship and law and crime knowledge," Lara said.
Harrisdale Primary School academic extension teacher Jaclyn Elborough said she was proud of the students.
"It was a great opportunity for the students to see the Children's Court in real life and interact with law industry professionals," she said.
"We love to have competitions that develop students' passions and areas of interest.
"It was a great activity to extend their creative, critical thinking, reading, inferencing, digital technologies and civics and citizenship skills."
Ms Elborough said they have an engaged and supportive school community and are lucky to have a mum who is a lawyer provide feedback to the students and judge the in-class competition.
"Teams of students enthusiastically discussed and presented their ideas, and then we used our preferential voting to select the winning team in our class," she said.
The competition takes place during Term 1 and 2, and teacher resources are available to support the program of work.
To learn more about the Cluedunnit Kids Challenge, visit the Law Society of Western Australia website.