Damian Shuttleworth, Carine Senior High School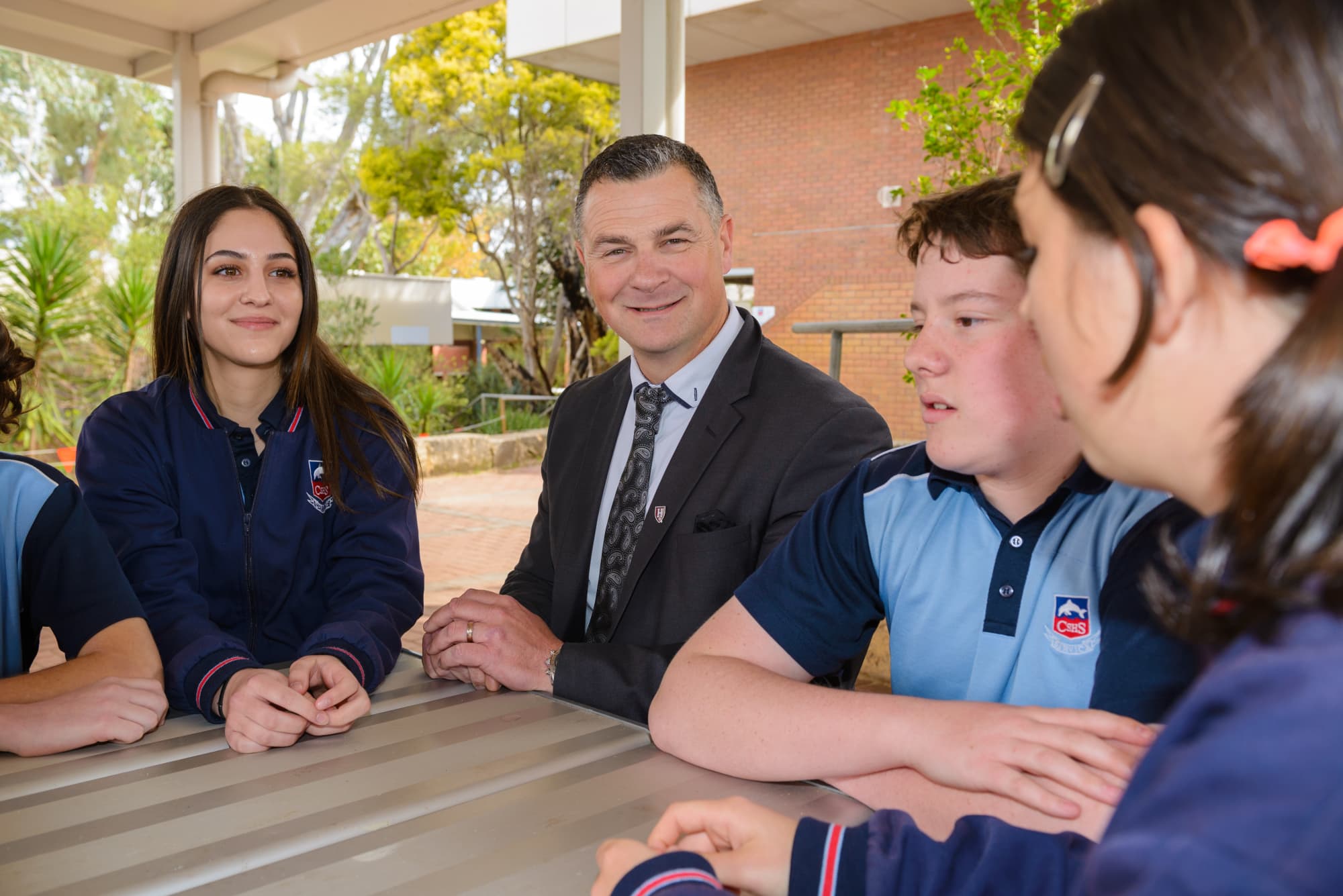 Celebrations continue at Carine
While Carine Senior High School principal Damian Shuttleworth was one day fruitlessly searching his office for lunch change, he was in luck.
His father, who is also a teacher, happened to be doing relief work at the school at the time, and as Damian realised he had forgotten his wallet he went in search of his dad.
"I went out into the yard where he was on duty and asked him if I could borrow some lunch money," Damian recalls.
"The students overheard this exchange and they thought it was hilarious!"
Some things never change and, while he has now followed in his father's footsteps, teaching wasn't Damian's first career choice.
He spent six years in leadership roles in retail before deciding to embark on a career change, and applied for university as a mature-aged student.
Initially planning to be a police officer, he changed his mind at the last minute and studied to be a teacher where he hoped he could make a difference.
"I believe people in education can change lives," Damian says.
"I wanted to have the opportunity to impact positively and 20 years later I've never looked back."
When he first joined Carine Senior High School in 2014, he became just the fourth principal in the school's 44-year history.
Under his leadership, Carine was awarded WA Secondary School of the Year in 2017 for its wave of successes, and Damian can now add 2018 WA Secondary Principal of the Year to the school's growing accolades.
In his four years as leader, Damian works on providing the best education for students and consults with the community and staff to ensure these learning opportunities are possible.
He has been described by his peers as a "courageous and empowering leader" who supports his staff to offer the most effective and exciting programs to their students.
In 2015, under Damian's leadership, students for the first time in the school's history gained a median ATAR of 80 rising to 82.45 in 2016 along with 100 per cent attainment. In 2017, the median ATAR increased to 83.18 and 100 per cent attainment in vocational education and training.
North Metropolitan Regional Executive Director Jim Webb praises the school for having a strong focus on improvement at every level.
"There's a real and deep cultural commitment from everyone – from the principal down – to providing the best education for students," Jim says.
Parents agree. A school survey this year found more than 95 per cent of parents, students and staff felt Damian made clear his standards of high expectations for students while more than 90 per cent agreed there had been significant school improvement in the past two years.
Using his moral compass to the lead way, Damian places a big emphasis on ethics. He says it is critical in supporting and including all students who have a big impact on him every day.
"I had an out of area enrolment for a student who would require some extra support as he began secondary school," explains Damian.
"When I met this student and his parents, it was clear to me that I had to accept the enrolment, as it was obvious this was an outstanding young man.
"As we were finishing our meeting, another mother who has a son with extra support needs came into the office. She spoke very highly to the prospective family about how well the school and staff had catered for son. Both mothers hugged and were a bit teary.
"This moment showed me just how much Carine Senior High School is making a difference to students who can often be left behind. This culture of acceptance starts with me, and I am very proud of that.
"I feel lucky and grateful to be working in such a positive and inspiring environment."
---
WA Secondary Principal of the Year 2018
This award recognises individuals whose leadership and passion bring a positive influence to their school community. They lead by example to build strong and respected schools and they forge partnerships with business, industry and communities to benefit students.
Proudly sponsored by Teachers Mutual Bank.
Winner:
Damian Shuttleworth, Carine Senior High School
Finalists:
Susan Kerr, Newton Moore Senior High School
Keith Svendsen, Baldivis Secondary College
Katherine Ward, Kent Street Senior High School