Variety providing aid to students and families in need
31 October 2023
Events and initiatives
Public school life
Variety WA is throwing its support behind thousands of Western Australian school children and families through its new 2024 EduKids grants program.
This state-wide initiative aims to provide essential back-to-school supplies, such as booklist items and uniforms, to primary and high school students, ensuring they are well-equipped to continue their academic journey.
At least 160 schools across the state will receive grants of $2,500, for high schools, and $1,500, for primary schools. This financial aid will help these schools to ensure that every student, regardless of their circumstances, has access to the necessary essentials from day one.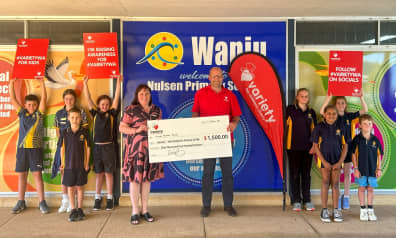 To launch the EduKids grants program, Variety WA's CEO, Chris Chatterton, is driving across the state to award grants to schools facing the most significant challenges. The 'Variety EduKids Drive for Change' kicked off on Monday 16 October, and covered 20 schools and spanned more than 2,100 kilometres during the initial five-day leg.
Subsequent drives are scheduled for November and December and will focus on schools in the Kimberley, Pilbara, and Midwest regions.
Mr Chatterton expressed his enthusiasm for Drive for Change and delivering EduKids grants while visiting schools.
"With one in five young people living below the poverty line in WA, we know that education is crucial to breaking the cycle of disadvantage," said Mr Chatterton.
"I'm delighted to personally visit and see the positive impact that the grants will have on students."
The Department of Education is thrilled to work with Variety WA in helping set students up for success.
Marie-Anne Keefe, Director of Communications at the Department of Education said this program is so important because public education in WA is all about equal opportunity for every student.
"Students who may not have the means to get the back-to-school basics have the things they need to start the year and have a great education just like any other student," she said.
EduKids grant applications close on Friday 10 November and are open for all public schools in WA. For additional information and to submit your application, visit Variety WA.