Students design fire shelters for animals
Bullsbrook College students put their real-world STEM skills to the test by designing shelters using recycled materials that would help animals survive a bushfire, following the fires that impacted the region earlier this year.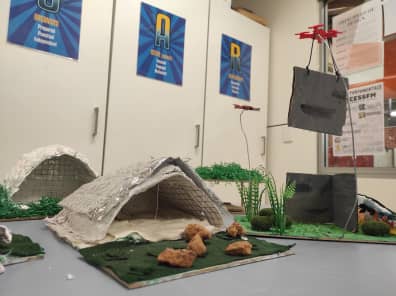 The school was inspired to complete the project as many students and staff are involved in activities with animals in the area such as horse riding and farming.
As part of the project, students designed the shelters and then worked in small teams to produce scaled models of their ideas.
The ideas put forward included drones dropping in materials from above and specially shaped covers for the animals.
Bullsbrook College Design and Technology Teacher Michal Jasinski said the students learnt about STEM enterprise skills while completing the project.
"They used technology to research non-combustible materials and applied creativity, innovation and problem-solving skills to create unique designs," he said.
Mr Jasinski said the students also developed their communication and teamwork skills during the process.
"Students then worked in small groups when building scaled models of the shelters, practising collaboration, communication and teamwork skills," he said.
"Critical thinking and social skills were on display when students compared their designs at the end."
Mr Jasinski said Bullsbrook College endeavours to continue to achieve STEM education outcomes with real world links by undertaking projects such as this.
"This was a valuable project for students because it linked to the recent events in the local community and focused on solving a real-life problem," he said.
Bullsbrook College was among the more than 80 schools who presented an innovative STEM learning project at the STEM Enterprise Showcase in June.